Among all of the ranking factors Google consider when looking at a link to a page, anchor text is undoubtedly one of the most powerful. If a link is a vote for a page, the anchor text used to link is one of the clearest signal of why you are linking to that page: what is this page actually about?
So powerful, in fact, that they have created numerous penalties for those that have abused anchor text by creating 100s of links to their sites. (We don't do that here. Lesson learned, a few too many times to mention!)
Using diverse anchor texts when linking to your pages is crucially important - not only does keeping it natural greatly reduce your risk of a penalty, but by using a range of synonyms and modifiers to link greatly increases your ability to rank for long tail keywords.
Hardcore link builders know this. You know this. I know this.. and execute it whenever requesting links. But, if you're anything like me, you often forget to apply the same logic when structuring your own site!
Internal links deserve unique anchors too!
It's not uncommon for some of our most important pages on our sites to only ever being linked to using a single anchor text. This is usually due to content being linked to in a site's navigation or footer (see our features tab above!), or due to the title of a blog being used as the sole anchor due to listings on category pages and in places like 'Related Posts' sidebars
What. A. Waste.
Granted, there is a difference between inbound internal links and backlinks from other sites. Google aren't going to take me to court because I link to my 'Rank Tracker' page using the anchor text 'Rank Tracker' from all 100 pages of my website, thank goodness.
But by using a single anchor to link to a page that can be described in so many weird and wonderful ways by searchers is a colossal waste! At the time of writing, my Rank Tracker page gets impressions for a whopping 3,271 unique keywords:

Popular among those keywords are variations such as 'google keyword ranking', 'keyword position tracker', 'seo rank checker' and 100s of other permutations.
By only ever linking to my page using the phrase 'rank tracker' I might see a minor lift for that head term, but I'm not giving myself any credit for phrases that include words such as keyword, position, checker, google, tool or tens of other phrases.
More anchors, Broader rankings
The more internal anchor diversity you can add, the broader you can cast my net and catch even more of those long tail variations. Just as each external link helps
By combining a campaign tweaks to my page title and heading tags to add missing modifiers and synonyms with one that diversifies the incoming internal anchor text you're not just signalling to Google that your page is relevant for all those tasty variations, but waving a gigantic red bull flag at the Googlebot.
You could slap these links onto your site willy-nilly. But given relevance is another huge driver of rankings, the biggest gains will come when you link with unique anchors from other topically relevant content. You can see how to find relevant pages on your own site to build internal links from here.
But how can you see which pages are the most deserving of your time in creating new inbound links?
How to find target content to build new internal links for
When SEO Scout crawls your site, we keep track of which pages link to each other, what anchor text they use, and how many unique anchor texts are used to link internally to a page.
Frequently pages with a low number of unique anchor texts will rank worse than those with more diverse anchors, and significant gains can be made in increasing the diversity of anchors and the mix of long tail variations you use to link to a page.
To find great prospects, follow these simple steps:
Head to the Internal Links report

Under 'Advanced Filters' choose 'Unique Anchor Texts' and filter to less than 5 ******CHANGE THIS IMAGE TO THE RIGHT ONE*****

Sort the report by the number of Impressions descending - this can help highlight pages with a high potential for growth in the search results. You might also like to search by the number of keywords the pages rank for, descending, as this will highlight pages with a wide range of potential long tail terms you could rank for.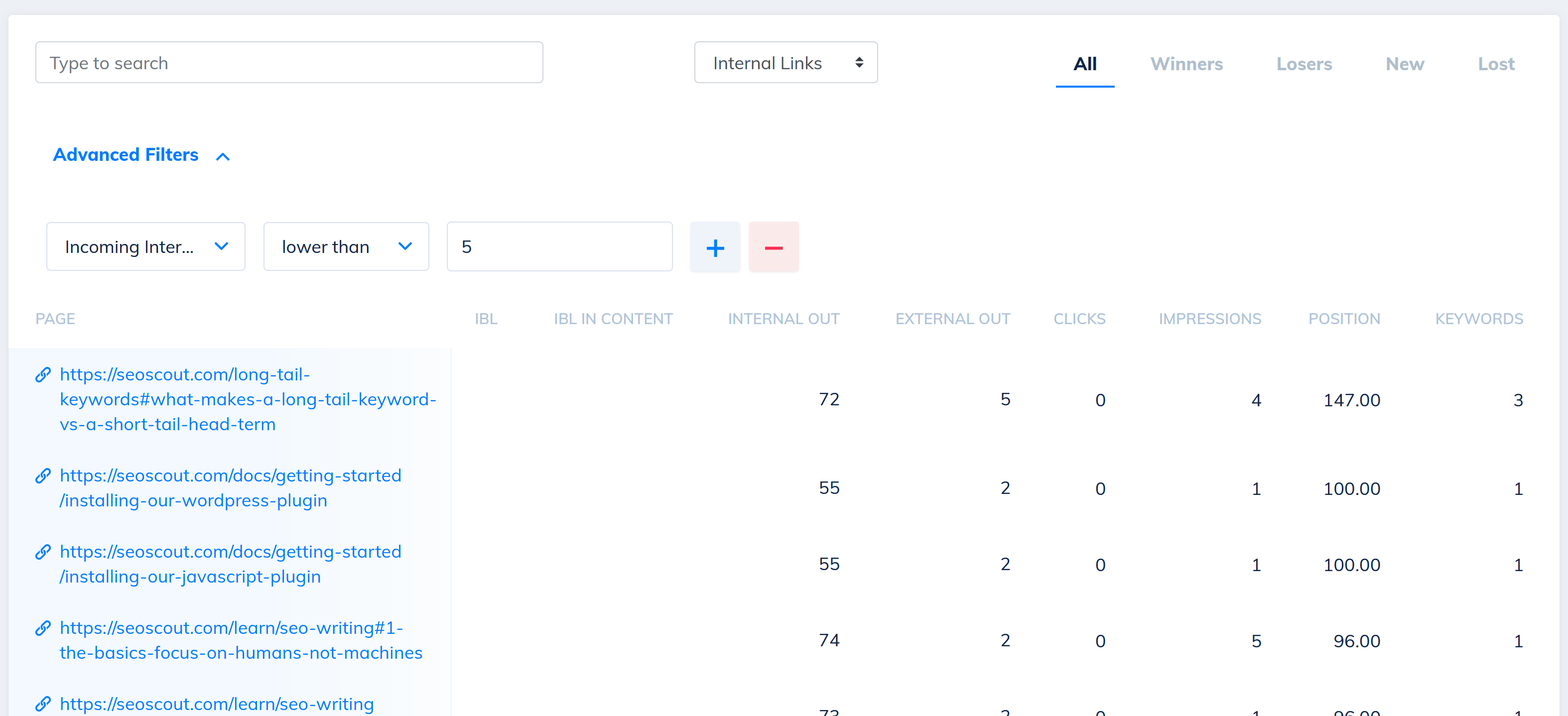 The top pages returned are perfect candidates for adding new internal links to.
You can then click on each page to view that URL's top keywords, as well as the existing internal links and their anchor text.
By comparing the range of keywords a page gets impressions for to the terms you're actually using to link to a page, you can quickly see opportunities to add new modifiers and synonyms to the anchor text of your internal links.
Find good candidates for pages to build internal links from. On the Recommendations tab you can see other content on your site that is a good topical match for the current page's content that does not already link to this specific page - or pages that only link in the nav, not content.

Get to work refreshing your content, adding in internal links to your target pages naturally and within the content. At times you may simply be able to link existing text to the article and naturally include your target anchors. At others, you may want to add a short sentence or paragraph that allows you to introduce your related content and use your most valuable keywords.