NLP Topic Analysis
Understand your topic beyond simple keyword matches
Ranking on Google is no longer a paint by numbers affair.
Gone are the days of picking the keywords with the highest volumes, churning out endless reams of content and expecting great results.
Now you need to show Google that your content is of a high enough quality.

This means in depth, well researched articles, not 100s of pages of fluff.

Google has invested heavily in machine learning and entity analysis to truly understand what pages answer their searcher's questions. It's no longer enough to just throw some related terms into your headers. You need to show that you are a comprehensive resource that can support the visitor throughout their searcher journey.
But how do you get the expert topic knowlege your clients need for their website in good time?
Get My Free Report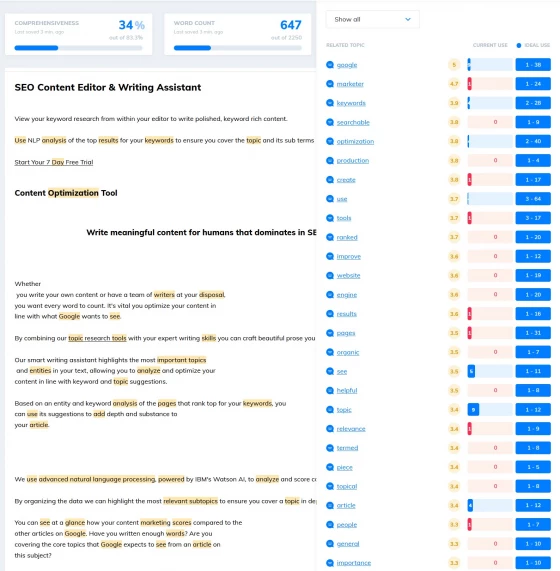 Discover the topics you need to be relevant
If you were a travel guide you might like to appear for a search such as ' Things to do in Paris'. Old school SEOs would suggest cramming in as many variations of 'places to see, sightseeing, things to do' etc as you can into your title and subheadings.
But Google has moved on - simply stuffing pages with different synonyms is not enough to compete. Google's work on the knowlege graph, combined with Natural Language Processing, means they understand 'Things' - the entities, topics and ideas that are associated with a search.
For example, Google is advanced enough to understand that an article on Paris Sightseeing needs to mention the Eiffel Tower, the Lourve and Notre Damme. A guide to the best credit cards is incomplete without discussing debt, repayments and credit scores.
Old fashioned keyword tools that are based on matching phrases containing specific words aren't good enough. They won't include these terms in their suggested searches.

And unless you're already an expert in all the niches you work in it's likely you'll miss some of them too.
Get My Free Report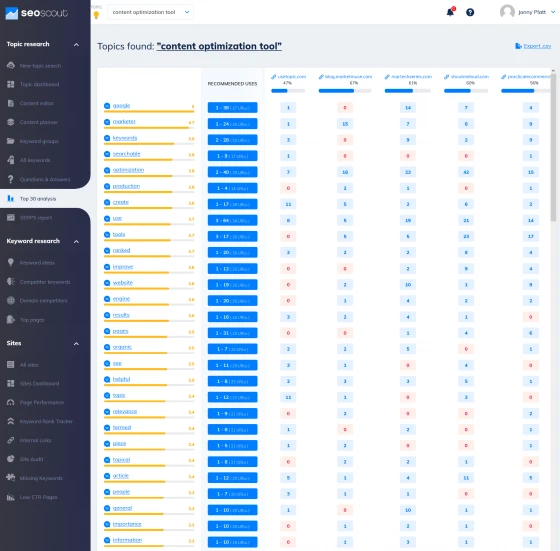 Leverage your competitors research
Our service will scan the top 30 results for your keywords and pass them through an advanced NLP analysis, powered by IBM's Watson AI.

We then help you compare your content against the top ranked pages in your niche, to make sure your coverage of a topic is comprehensive enough to compete. Our SEO content editor is a powerful tool to optimize your content to the same level of quality as your competitors.

At a glance you can see a breakdown of the top results and which entitiy types - people, locations, places and ideas - your competitors are using to boost their relevance.
Get My Free Report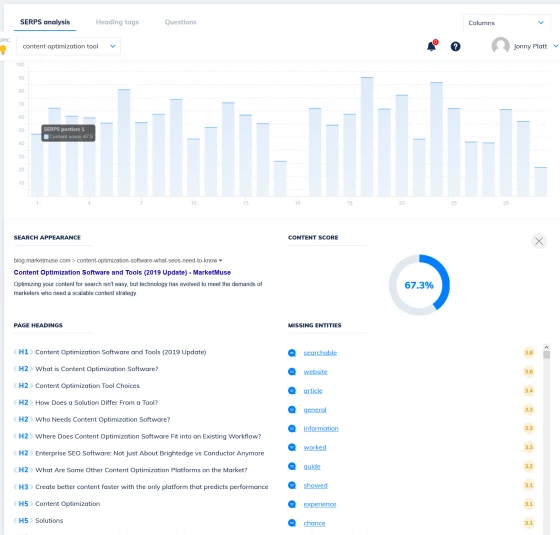 Answer the most pressing questions
You can quickly find the top questions your customers are asking about a subject, as we collect FAQs from Google's ' People Also Ask' questions and sites like Quora, as well as Google Suggest.

These can help you add depth to your content, capture Featured Snippets and write supporting content to develop your own topic clusters.
Get My Free Report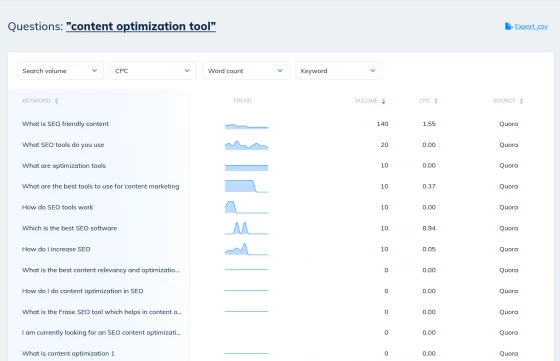 Turn your keywords into an actionable content plan
Stop juggling spreadsheets and exports to create plans for your writers. Send questions, keywords and entire keyword groups to your Content Planner from any report to your Planner board.
Map out entire topic clusters from your keyword lists. Search your keywords or browse by entity, then drag your choices into Collections ready to write up into paragraphs and subheadings or entire new articles.

Drag, drop, reorder and edit your selections on a Trello-like board to quickly plan out supporting content for your topic clusters. Then hit Export to grab your content plan ready for emailing to your writers

Get my free report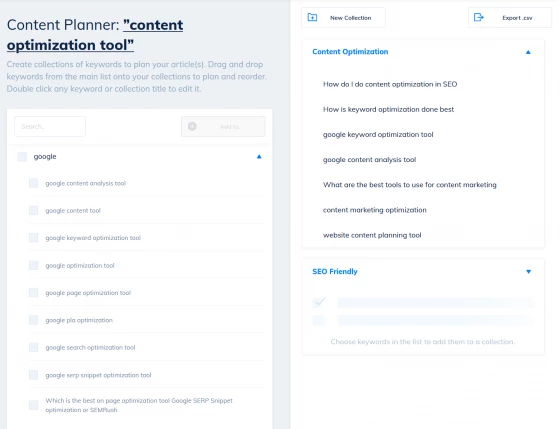 Survey the entire keyword landscape
You can also explore traditional keyword suggestions and Google Adwords' estimates of average search volume to help you find the modifiers your searchers are using. This helps you find great long tail keywords to create more relevant articles.
Our built in keyword grouping tool helps suggest supporting articles to build out hyper focused keyword silos on your site.

Better still, we scrape Google's 'People Also Search For' questions to help you discover even more hidden gems and opportunities your can use to power up the rankings.
By combining information from all these different sources and engines you can quickly get to grips with a topic. Making use of the different type of phrases our tool provides helps in optimizing your content to extract maximum value from your search results and achieve your potential.