Content Optimization & Analysis Tool
Write meaningful content for humans that dominates in SEO
Whether you write your own content or have a team of writers at your disposal, you want every word to count. It's vital you optimize your content in line with what Google wants to see.

By combining our topic research tool with your expert writing skills you can craft beautiful prose you know will rank well.
Our smart writing assistant highlights the most important topics and entities in your text, allowing you to analyze and optimize your content in line with keyword and topic suggestions.
Based on an entity and keyword analysis of the pages that rank top for your keywords, you can use its suggestions to add depth and substance to your article.
Get my free report
Powerful Editor For SEO Rich Articles
Advanced SEO Writing Assistant
We use advanced natural language processing, powered by IBM's Watson AI, to analyze and score competing content in your niche.
By organizing the data we can highlight the most relevant subtopics to ensure you cover a subject in depth.
You can see at a glance how your content scores compared to the other articles on Google. Have you written enough words? Are you covering the core topics that Google expects to see from an article on this subject?

Most importantly - what is missing from your text?
By using the recommendations and analysis from our content optimization tool you can ensure your copy outshines the competition and offers an engrossing user experience.

Quickly filter our recommendations to see which key terms, concepts and entities you've left out.
Get my free report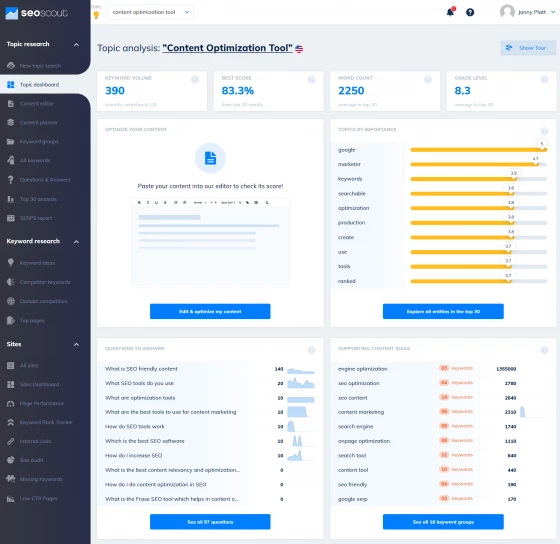 Keyword Analyzer + Content Quality Score Checker
'SEO Friendly' Writing Suggestions
Our SEO writing assistant and entity analyzer shows you how often keywords and phrases are used in other texts on the web. By keeping your content in line with other articles you can avoid keyword stuffing and 'over optimization'.
Instead, you can weave a wide range of synonyms and modifiers into your text. As you write more widely on the topic in hand, you follow SEO best practices. You can both increase your article's ability to rank, and create a page that is more useful for the reader.
Get my free report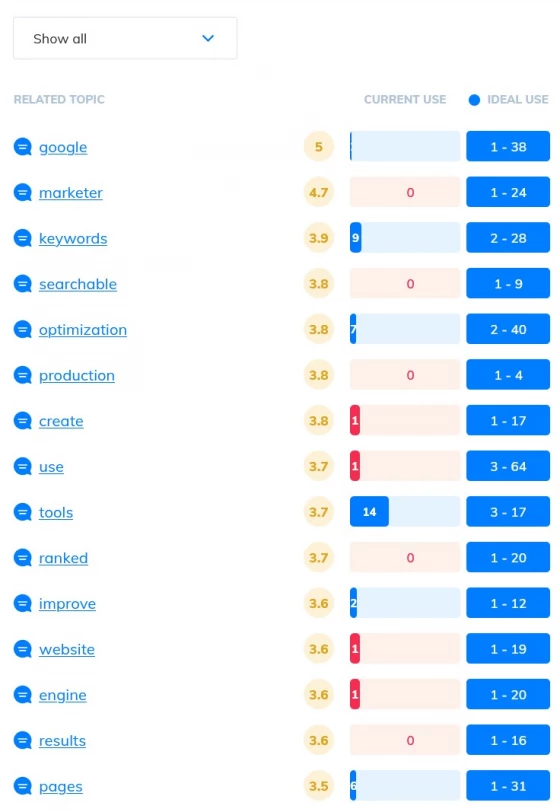 Using Content Optimizing Software For Better Google Rankings
Content Optimization Best Practices
It's no longer enough to stuff your article with keywords to please the Google Gods. You need to show that your content is a high enough quality to engage and retain readers on your site.
Google are tracking a wealth of user engagement signals. They can understand whether a user found what they were looking for on your site - or if they left for a better answer.
Gone are the days of keyword dense content churned out by the bucketload. To succeed in Google you need to provide expert level content that covers a topic in depth. You need to answer a reader's burning questions, and lead them from 'what is a widget' all the way through to purchase.
This means you need to understand your topic in great detail. Our SEO editor helps you spot key concepts that you've missed from your text that appear on competing sites.
The way to succeed with SEO is to stop writing 'SEO content'. Instead you need to show Google you are a subject matter expert. Content optimization for SEO now means writing the best, most comprehnsive and accessible articles to satisfy the users. Use our suggestions to become the authority on your niche.

By ensuring you cover the topics that Google expect to see on your page, you help prove your relevance. By using adding answers to the questions people ask about your topic you add depth. And by building clusters of articles around a topic you prove to Google that you are an authority on the subject.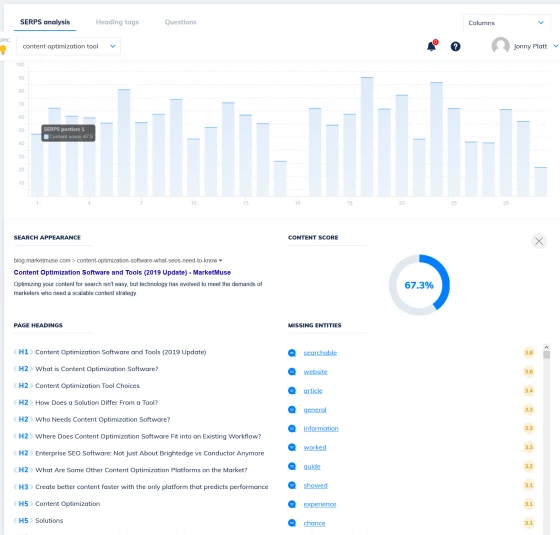 While Surfer SEO and Semrush have content optimzation tools and writing assistan software that have gained some popularity, they are limited by a primitive analysis of the count of keywords on a page.

Google has moved beyond simple phrase matching and now deeply understands the topics, entities and subjects mentioned in a text. This goes far beyond guessing synonyms for your keywords, but means they can actually determine the quality of an article based on whether the article discusses topics they deem important.

Old fashioned SEO tools such as Surfer SEO can tell you how many times a keyword is used, but they can't tell you which are the most important topics to cover, nor what Google expects a 'quality' article for your keywords to be about.