Internal linking is one of the most overlooked aspects of SEO. When done right, it has huge potential to improve your ranking, as well as providing a smoother UX.
At SEO Scout, we're well aware of the importance of an effective internal linking strategy. That's why we provide a dedicated Internal Links Analysis tool to help you optimize your internal link structure and enjoy the resulting boost in your rankings.
Keep reading to learn why internal linking is key and how to find the most relevant internal linking opportunities for your target page using SEO Scout.
First Of All, What Is Internal Linking?
Internal links are links that point from one page to another on your site, for example, this one to SEO Scout's Internal Links Analysis feature page.
Whereas, external links point to a page on another domain, like this link to Google Search Console. While building external backlinks is essential to demonstrate the authority of your domain to search engines, we shouldn't underestimate the importance of internal linking.
So, Why Is Internal Linking So Important?
Optimizing your internal linking strategy should be an integral part of your on-page SEO checklist because:
It allows search engines to find and index your pages, and therefore understand your site's architecture. They won't find a page if there are no links to it, so there's no chance of a page ranking if it's not part of your internal linking structure.
It shows contextual links between pages in the eyes of users and search engines. This demonstrates your expertise in your niche and gives you greater authority in search engine algorithms, helping you rank higher.
It improves your site's ranking by passing authority between pages. Google's first and best-known algorithm, PageRank, works by counting the number and quality of links to a page. If one page ranks high thanks to its link profile, it can pass this authority to other pages on your domain using internal links.
Let's break that down. Often, your website's homepage has the greatest link value because it has the most backlinks, and its authority gets passed on and divided between all the pages linked on it. So, your newest blog posts will have a higher link value if you link them on the homepage as well as on the category page. More valuable links = better chances of a page ranking.
Finally, a good internal linking structure creates a smooth UX and drives users to reach an end goal - whether that's spending a longer time on your site or making a purchase - thereby improving your search performance.
What Are The Different Types of Internal Links?
There are two main types of internal links: navigational and contextual.
Navigational internal links help users find their way around your site. These links are usually found in the main menu, whether that's in a page's header, sidebar, and/or footer.
Tip: make sure your navigational internal links are easily accessible, consistent, and intuitive to create the best UX possible. If users can't find the link they need, they'll abandon your site.
Example: SEO Scout's navigational internal links are found in the header and footer of every page on our site: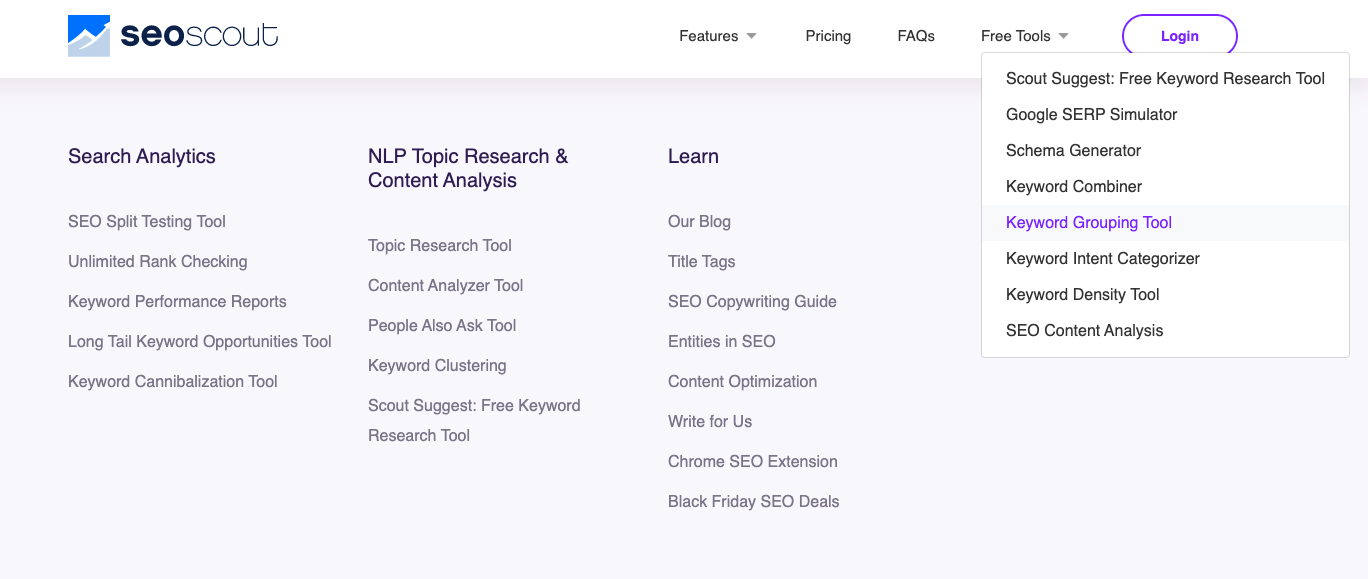 Contextual internal links are found in the main body content of a page and lead to other relevant pages to give users more information.
Tip: these should be clear and clickable with natural anchor text to demonstrate relevance between pages and therefore pass the PageRank algorithm.
Example: on the below page about our free keyword research tool, Scout Suggest, we've included contextual internal links (in purple) to relevant pages on our site. This shows we have extensive expertise on the subject, which helps boost our ranking in Google.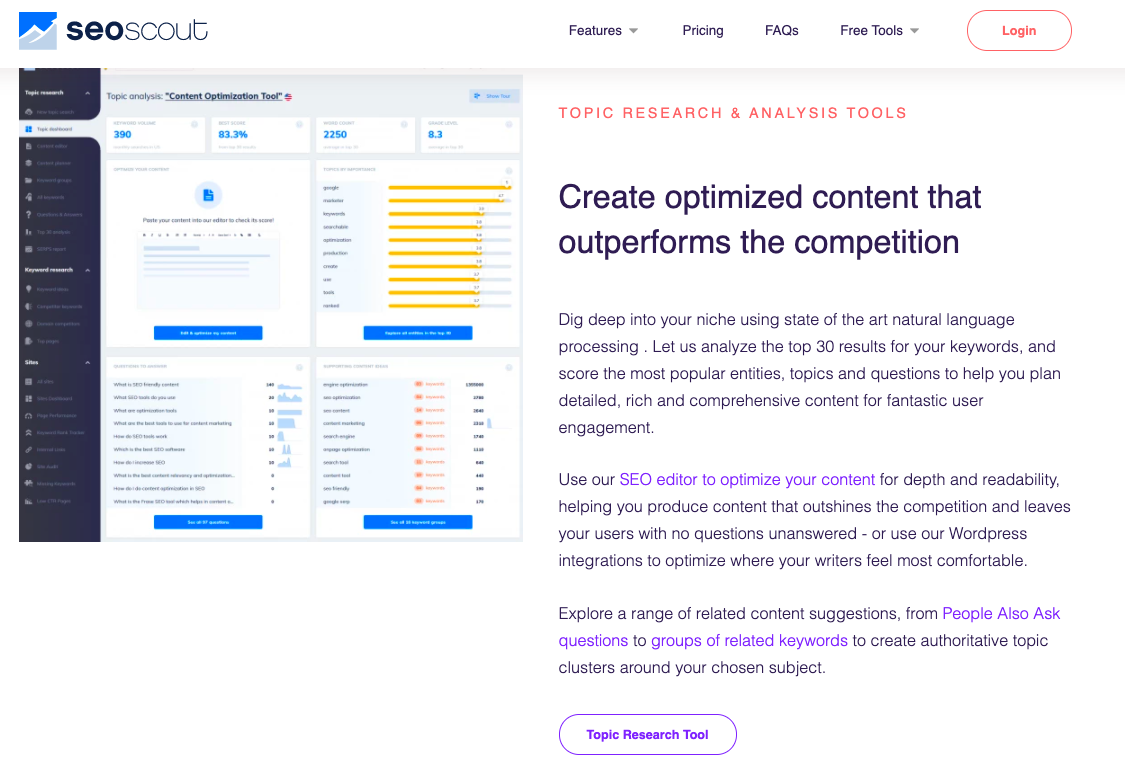 How To Find Relevant Internal Linking Opportunities For Your Target Page Using SEO Scout
Define Your Site Structure
Find Authority Pages With Highest Link Value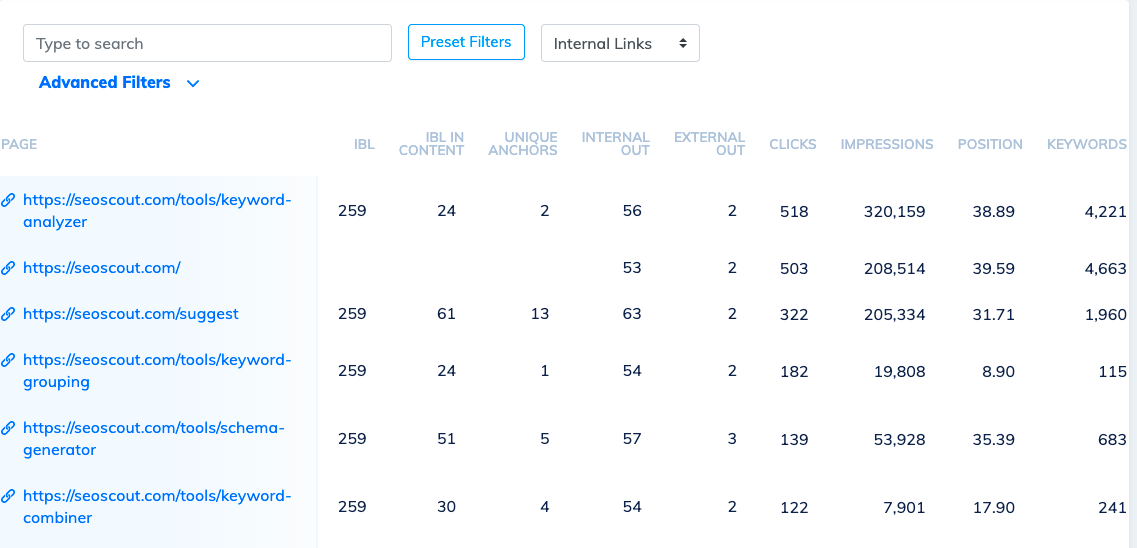 Using SEO Scout's Internal Link Analysis, sort your pages by clicks, impressions, and position to compile a list of your most authoritative pages, i.e. those that drive the most traffic to your site. Usually, these pages target keywords with high search volumes, rather than more specific long-tail keywords, for example, your homepage and category pages.
Map Out Topic Clusters
Map out your site structure by creating a spreadsheet of your pages. See the below example of a section of easyJet's website mapped from the most authoritative pages to the least. This allows you to visualize where links can be placed within category pages and supporting content pages.
Your internal links should flow downwards to share the link value from the most valuable pages. You should also ensure that supporting content pages link back to the more authoritative pages to provide a smooth UX. Think of it as a pyramid shape with your homepage at the top: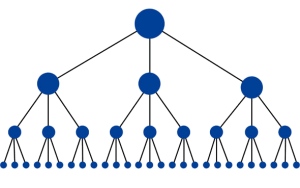 Identify Your Target Pages
Your target pages are those whose internal links you want to optimize because:
They currently have few internal links
They target lucrative keywords that you want to increase traffic to
They're underperforming
They're related to other, more authoritative pages in terms of topics
To find target pages with few internal links: filter SEO Scout's Internal Link Analysis by pages with the fewest incoming and outgoing internal links.

To identify pages that target lucrative keywords: use our Question & Answer keyword research tool and filter by search volume and CPC. You can then check the sitemap spreadsheet you created, or perform a Google search (for example, "site:seoscout.com what is a kpi"), to find these keywords within your content and optimize those pages' internal links.

To find underperforming pages: check the Page Performance tool on SEO Scout and target those with low or falling clicks, impressions, and CTR.

To find pages linked to more authoritative URLs in terms of topics: use our Internal Link Opportunities tool to see our suggestions for related content. You can then analyze those links to check their authority.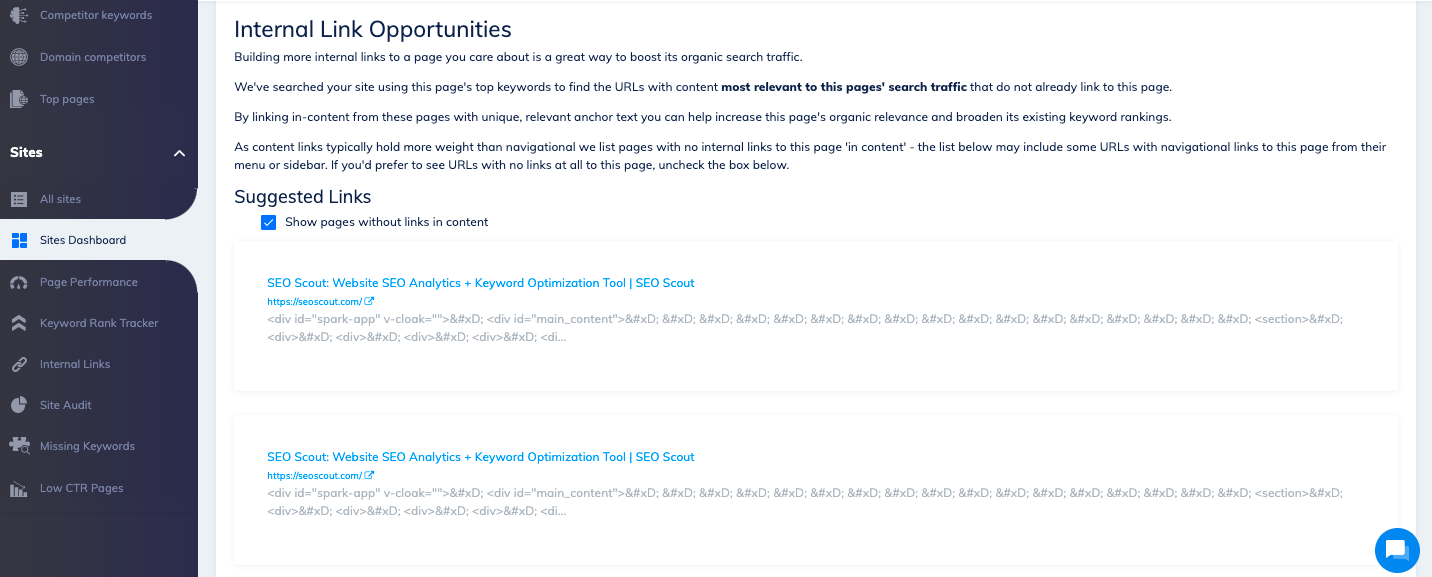 Find Relevant Internal Linking Opportunities for Your Target Pages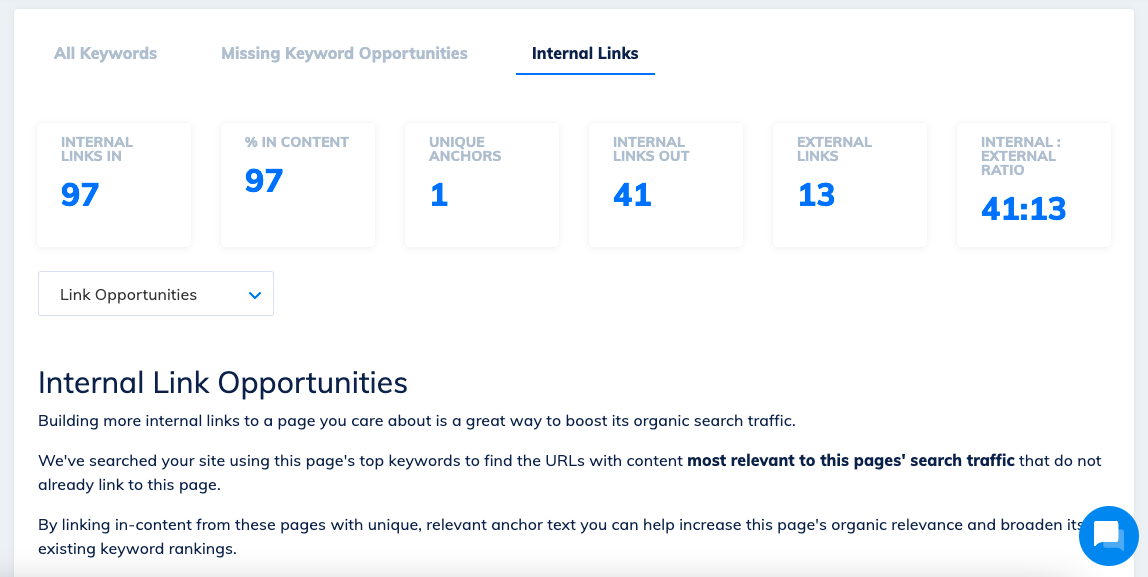 In the Internal Link Analysis overview, click on the URL of a target page whose internal links you want to optimize. Then, select the Internal Links tab.
SEO Scout will search your site using your target page's top keywords to find the content most relevant to its search traffic that isn't already linked. You'll see a list of these URLs and can then edit them to incorporate internal links.
Choose The Right Anchor Text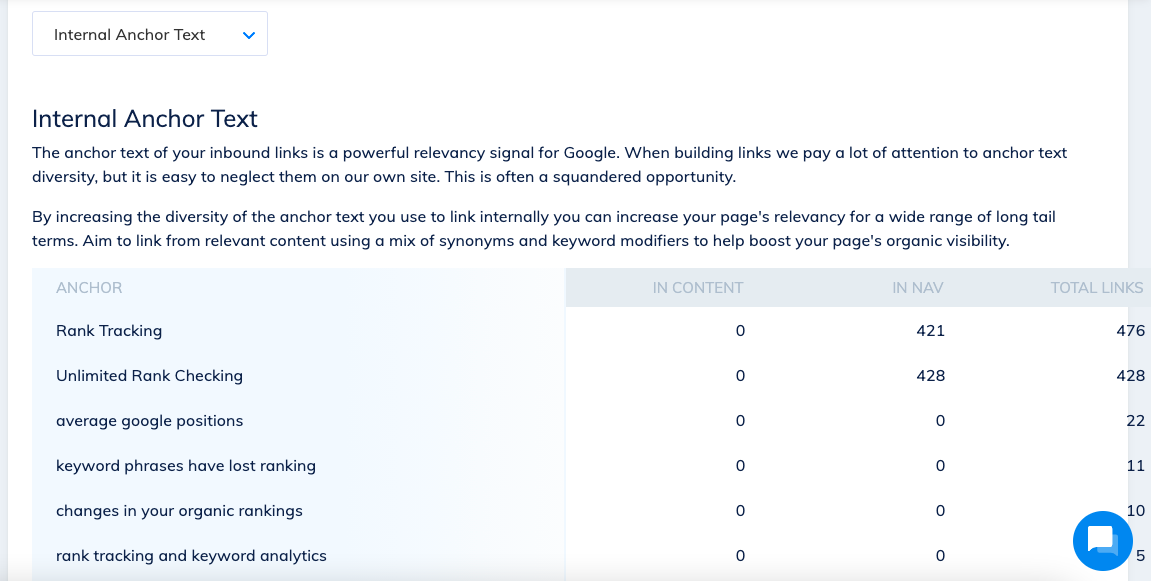 As mentioned earlier, using the right anchor text (i.e. the visible, clickable text of your hyperlink) is key to your internal linking strategy. Your anchor texts should be natural-sounding, relevant, and unique.
Use SEO Scout's Keyword Grouping and natural language processing-powered Topic Research tools to find a range of synonyms and long-tail keyword modifiers to create powerful anchor texts. As a bonus, you'll be targeting additional keyword opportunities, too!
Insert Internal Links To Increase Ranking
- Having researched your site's most authoritative pages and the most relevant URLs to your target page using Internal Link Analysis, edit the target page to insert these internal links using your optimized anchor text. 1. Track The Impact On Your Traffic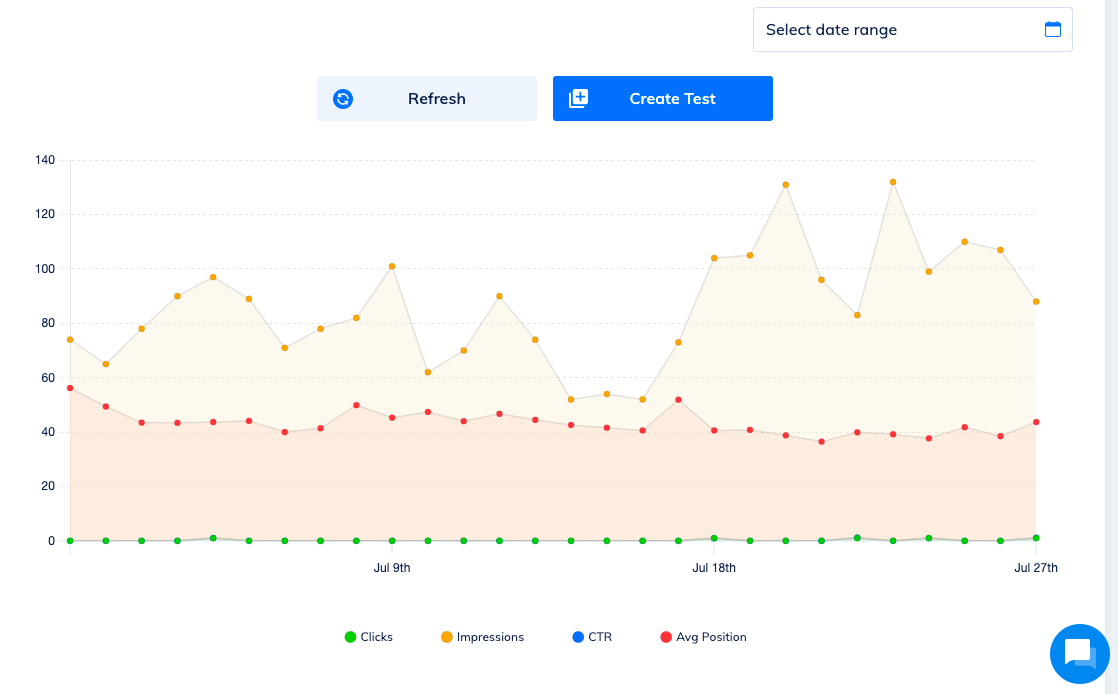 SEO Scout uses your Google Search Console data to give you insight into the real-time performance and progress of your site. Having selected your target page, the Site Dashboard will show you its clicks, impressions, CTR, and average position over your selected period of time. So you can track how making the most of the relevant internal linking opportunities for your target page has boosted your rankings.
Using our SEO Split Testing tool, you can even preview the impact of any changes you want to make to your page before investing in content or using up any additional developer time.
Best Practices For Internal Linking
When strategizing relevant internal linking opportunities for your target page, bear the following best practices in mind:
Clearly define your site structure, indexing your pages from most to least authoritative and ensuring that your users and Google can find their way around your domain
The more high-quality, optimized content you have, the better, provided it all contains relevant links!
Link deep: make sure you've linked to relevant pages to demonstrate topic authority, rather than just homepage or contact page links
Always consider your user's journey: the linked pages and their anchor text should facilitate a smooth and natural UX
Remember search engines won't identify internal links found in:
Submission-required forms
Internal search boxes
Flash/Java etc.
Pages blocked by the Meta Robots tag
Pages with over ~150 links
"Nofollow" links
Analyze And Optimize Your Internal Links With SEO Scout
Having an effective internal linking strategy can make a huge difference to your ranking position. Using SEO Scout, you can identify missed opportunities for internal links, find the most relevant links to insert, and define powerful anchor text to demonstrate your authority to search engines and users. Give your site an immediate ranking boost by trying our Internal Link Analysis tool for yourself with our free 7-day trial.