How to turn mentions of your brand into links


Link reclamation is one of the easiest ways to build links as 90% of the hard work is done for you.
The process involves finding mentions of your brand on external websites, reaching out to whoever is responsible for creating the content on that website, and asking them if they can link the mention of your brand to the website.
The process can be broken down into 4 steps

Finding websites that contain mentions of your brand
Qualifying these websites
Finding decision-makers and their email addresses
Reaching out and asking for a link
Let's go through each of these steps now.
1. Finding websites that contain mentions of your brand
To start with link reclamation you want to find an efficient way of identifying articles that mention your company.
Google is a great place to start with this, but an issue that many come across is that it takes too long to trawl through Google just to find a few opportunities.
This process can be sped up by effective keyword research.
Unlike traditional keyword research, where you are discovering articles people might search to find your product, link reclamation keyword research involves finding keywords that will only be used in reference to your company.
This can vary from company to company, but there are some that are universal to every reclamation campaign. They include:
Your brand name (if you have a unique brand name)
Your brand name + your CEO
The names of any other thought leaders in your company + your brand name
Your domain
The name of any unique research or other PR activities you have commissioned
So for example, for SEOScout, some effective keywords might be:
"SEOScout"
"Johnny Platt" "SEOScout"
Note that all these keywords are wrapped in double quotes ("") as we want to do an exact match search for them.
Now before we actually make a search, we want to combine the keywords with a negative site operator to filter out any references of our brand on our own site.
Therefore our keywords become
Here is what we see when we make some of these searches:

All these sites mention SEOScout without actually being SEOScout themselves. We can scrape these results using a SERP Scraper to put all these results in an excel file for qualification.
2. Qualifying websites
The qualification process for link reclamation involves determining whether a site owner will be motivated to link out to you.
We will be sending personalized emails, so good qualification is essential to make this an effective link building technique.
I like to use a five-point checklist to qualify sites for link reclamation. Only if they pass all of these do I add them to my final list.
The checklist is:
The website must NOT be built on user-generated content (like social media platforms).
The website must NOT already be linking to you (duh).
The content must NOT be mentioning your name in a bad light.
The content must NOT be a list of companies, none of which are hyperlinked.
So long as it passes all of these you can add the website to your outreach list.
You can also filter out websites in more traditional ways such as on metrics such as traffic and Domain Rating.
3. Finding decision-makers and their email addresses
Generally, the websites that we are looking to claim links from fall into three broad categories. These are:
Newspapers, magazines, and other big media outlets
Websites of businesses
Personal blogs
The decision-maker that we want to reach out to depends on the type of website that we are approaching.
For bigger media outlets, we want the editor, digital editor, or relevant category editor (business editor for example).
Do not bother with reaching out to the article writer as they usually cannot edit a published article.
For websites of businesses, we want someone in the marketing or digital marketing department.
If a business does not have any marketing staff then just reach out to the most senior person you can find (Linkedin works well for this),
Personal blogs are easy to find decision-makers for as there is usually only one person behind the blog.
I could write a whole post about finding email addresses of people, so I am just going to list the main techniques that I use:
Look at contact pages of websites
Look at "about us" pages of websites
Use Hunter.io and double verify by Googling the email address using an exact match search
Look at the social media accounts of the person in question, especially Twitter for journalists
Look at the "about" section of the Facebook page of the target site.
Try to find personal email addresses if you can, your conversion rate will be a lot higher.
4) Reaching out and asking for a link
If you do your research and qualification properly, you can achieve a 30% conversion rate for outreach with fairly basic templates.
When asking for a link in this way, you should consider a few points when creating your email template:
You should be grateful your company has been mentioned on their website.
Acknowledge that it is a pain in the ass to edit a webpage so make it as easy for them as possible to do so.
Despite the above two points, you are still in your right to ask for a link if someone has written about your company.
So in short your outreach should be polite yet direct, and clear enough to make the adding of a link as easy as possible.
Here is an example template:
Subject: A big thank you and a quick ask…
Hi ,

My name is .

I see that recently you mentioned us in your article about : /link-reclamation.

Firstly thank you for mentioning us, .

I do have one quick request though, can you make your mention of our company click through to our website, please?

The mention of us is on .

Here is our websites URL: .

I know it's a pain to make this change, but it really helps with our organic visibility, so I would be very grateful if you could.

Thanks,
Always follow up 1-2 times. This increases your conversion rate by around 100%.
Additional tips
Here are a few additional pointers you should know about claiming mentions of your company to build links.
Given the 30% conversion rate, you should only do this if you have a lot of linkless mentions on the internet. You are likely to have this if you are a bigger brand or one that has run successful digital PR campaigns in the past.
If you have a smaller pool of targets, add a screenshot of the mention of your brand to each email. This can significantly increase your conversion rate, but at a time cost.
If you have a huge number of linkless mentions you can use Ahrefs content explorer to automate some of the qualification work. Simply type your keywords into Ahrefs content explorer, click the "highlight unlinked domains" button, and set the domain to your own site. This will filter out articles that already link to you.
---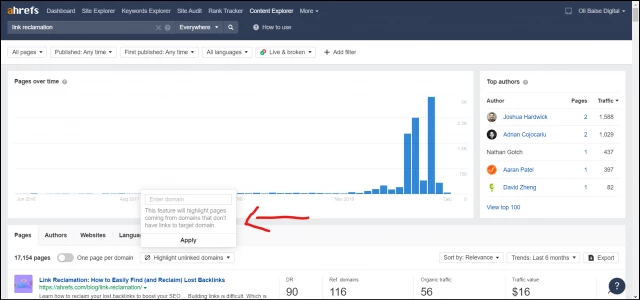 It's also worth mentioning that the difference in "SEO value" between links and linkless mentions does seem to be shrinking.
Therefore this type of link building should not be your only strategy. It should rather be seen as a source of low hanging fruit for larger companies.
Article by Oli Graham
-