How to Improve Upon These Vital SEO KPIs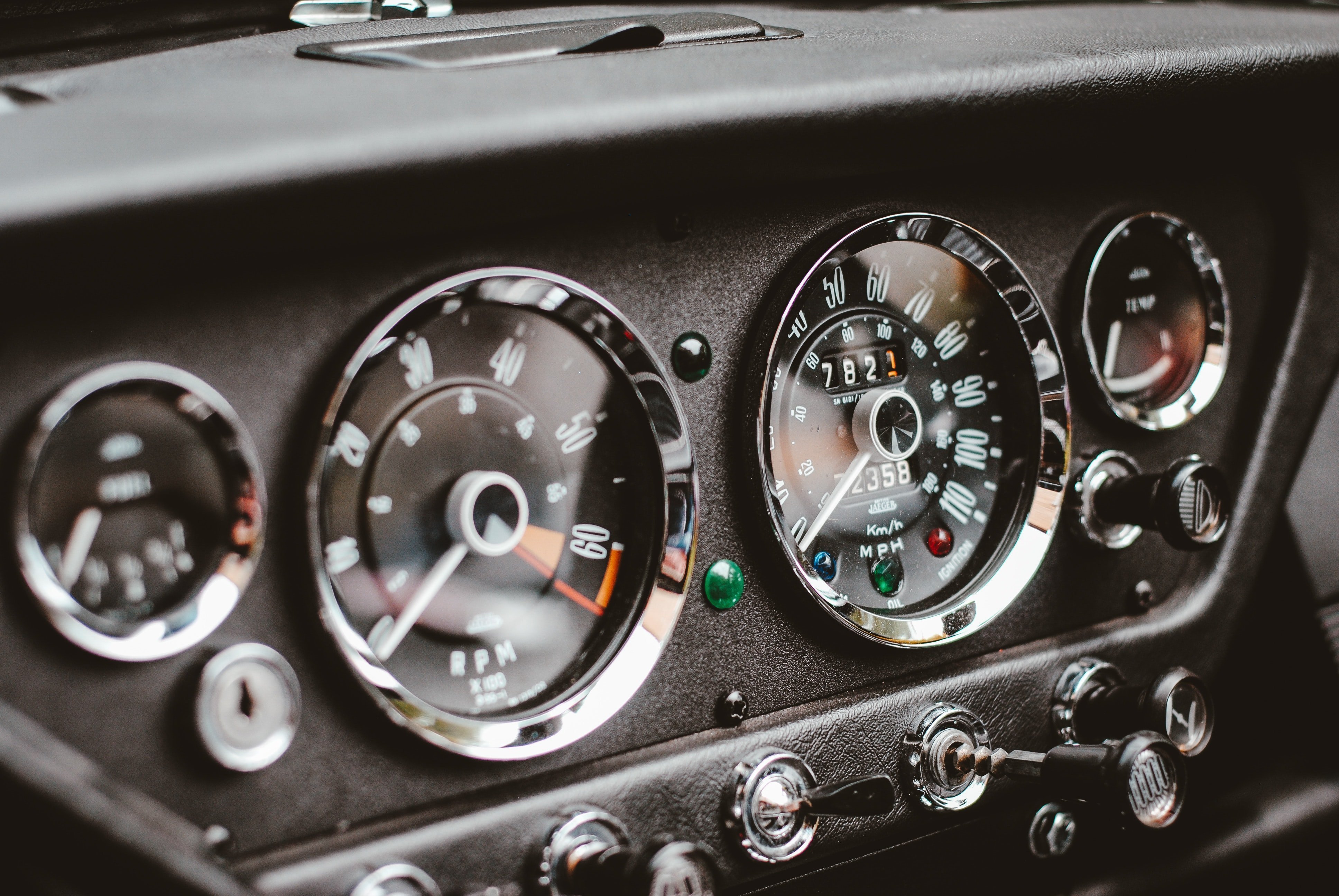 So, you spent hours building up your business. Your website looks great, your content strategy is flawless, and your buyer persona is fine-tuned to the core. Everything is ready. Now, you just need more eyes on it. You need growth.
But, how will you get more organic traffic, more leads, more conversions, and greater revenue? You'll need to focus your attention on your SEO performance and set quantifiable goals to measure in your performance report. The drivers behind your SEO marketing strategy will be key performance indicators (KPIs) that will provide actionable insights, so you know where to focus your resources.
Coupling the knowledge on how to improve SEO KPIs with SEO Scout's powerful site analytics, keyword optimization & seo testing tool, you'll be armed with the best resources to set you apart from competitors.

What are SEO KPIs, and why are they important?
A growth chart won't cut it anymore—the era of digital marketing demands more sophisticated, quantifiable measures. SEO KPIs (key performance indicators) are data-driven objectives that give you the real numbers on how your website is faring with your SEO efforts.
Search-engine-specific KPIs can help you identify top converting keywords, top-performing pages, and pages of your website that could use some search engine optimization. In the next 8 minutes, we will show you which SEO KPIs to track and how to improve them for better SEO performance.
Ready? Let's go.
SEO traffic
The SEO Traffic KPI records your number of website visits, be it from organic (through search results) or paid (ads) search traffic. More visits mean that your piece of content is relevant and your website has more domain authority--Google trusts your website as a reliable source of information.
Pairing website visit metrics with other SEO KPIs, like goal-completion metrics (GCRs) (ex. ratio of trial sign-ups or mail list subscriptions), is powerful in giving you a complete picture of your SEO performance.

For example, you could aim for 60,000 monthly visitors from search and paid traffic and expect 5,000 of them to sign up for your email list. With an SEO reporting tool, like SEO Scout, you'll be able to track website visitors, and see whether you're meeting your desired ratio of email subscribers.
How to surge your SEO traffic
You want to ensure that your traffic is gradually growing; that way, you increase the potential for more leads or sign-ups over time and build your domain authority. Your traffic is dependent on your content relevancy and traffic coming from other sources. So, the more you optimize your content for keywords, the more organic traffic you can pull in. At the same time, the more traffic you gain via other sources (e.g., email marketing, social media, Hacker News, etc), the more chances that you'll have to rank on the first page for relevant queries and get traffic from search.
For example, SEO Scout's Auditing Tool is a comprehensive, organized display of your SEO content. It identifies which pages need to have more content, what works well and what doesn't, scores your readability, and suggests keywords/impressions you're missing out on. Check it out: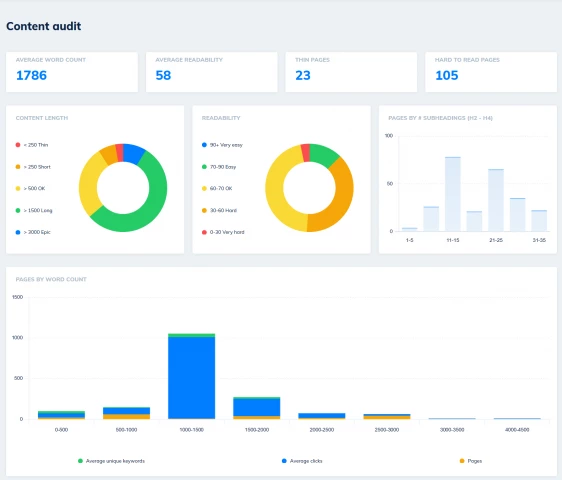 Generally speaking, to increase your organic search traffic, you need to keep up with Google's changing algorithms, keyword rankings and have an SEO content strategy with the help of powerful keyword research tools to score points for relevancy and trustworthiness.
Below is an example from SEO Scout of how to optimize content for more search traffic: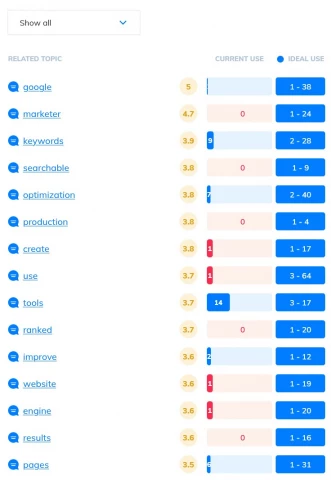 Suppose you incorporate the recommended target keywords and link building (we'll get into that later). In that case, you can expect search engines to reward your website with higher SERP rankings and domain authority.
Average time on page
The 'average time on page' KPI is pretty self-explanatory. It's a duration measure of a visitor's online session on your beautiful website. Although fancy SEO reporting tools will calculate the data to track for you, the formula is easy and will help deepen your understanding of this KPI. This is a crucial KPI, as it indicates how engaging your content is.
Sum of each visitor's duration on website (time Visitor 1 spends on page + time Visitor 2 spends on page + 3 + 4 +...) / Total visitors on page = Average time on page
Done.
For example, you could be aiming for 5 minutes spent on the page. Through your SEO reporting tool, you'll be able to examine whether or not visitors are staying for that long or not.
How to increase average time on page and decrease average bounce rate
If your website has a high bounce rate (your visitors aren't sticking around for long), then it's time to brainstorm new strategies to keep them on your website longer. You could change up your web copy, add some engageable material on the landing page, just something to encourage the user to navigate through your site.
Here are some best practices for your website that will make visitors want to stay longer:
Make your website navigable and aesthetically pleasing. A clean, beautiful interface allows your visitors a distraction-free and intuitive navigating experience. Your website should also look appealing and be consistent with your brand, so users can just admire your masterpiece as they surf through.
Write content for maximum readability. No one likes hard-to-read content. Use simple words as if you were in sixth grade and be conversational as if you were speaking to a friend. Follow a logical structure with the intent to educate and entertain. Your chosen font should be easy to read and spaced out, not something wacky in an attempt to be "different."
Implement engagement triggers. Give your audience something to play with. That could mean fun page animations, integrating social media, and embedding quizzes or videos. Just find opportunities to feed a visitor's human tendency to click, slide, type, and interact with what they see.
Improve your website loading speed. 53% of website visitors will leave a mobile page if it takes longer than 3 seconds to load. We're impatient beings. We can't really control the internet speed, but there are website tweaks we can make. Google's PageSpeed Insights tool shows you areas to improve on. If you're curious, here are some tweak tips:
Scan your site for technical errors
Investigate whether any interactive content or high-resolution images require optimization or size compression.
Add-ons and plugins and integrations are often responsible for slow loading times.
Onsite conversion
The onsite conversion KPI measures the number of visitors who completed a said action--like make a purchase, sign-up for your newsletter, book an appointment, whatever you designate as a "conversion." Conversions are important to achieve business goals.
Remember our discussion for the search traffic KPI? You need to track your onsite conversion data with search traffic data. Because what's the point in all of those visitors if they're not going to do anything thereafter?
Why you do not see many conversions
Your SEO content is crappy. Are your landing pages, blog posts, marketing on top of their game? Are they keyword optimized? Do they speak to user interests and personas? Crappy content means little traffic and definitely, no leads for conversions.
How to get more onsite conversions
There are many ways you can increase your onsite conversion rate. Let's highlight the best two methods and explain their significance.
Drive more inbound leads with an effective SEO strategy
Did you know that inbound, organic SEO leads have an average conversion rate of 14.6%? In contrast, outbound leads like direct mail or print advertising have a mere 1.7% conversion rate. The facts say that people are more likely to convert if they come to you naturally (inbound lead) rather than when you go to them (outbound lead).
See why SEO success is so critical? With higher search rankings through relevant keywords and domain authority, you pull in more organic search traffic. Here are some more examples of inbound leads:
SEO blog posts on relevant topics -- more traffic avenues through user-centric content
SEO landing pages -- by improving the quantity and quality of your landing pages, you could see a 55% increase in leads.
Viral social media posts/marketing campaigns -- people will check you out if they like your product/service marketing and brand personality.
Referral/backlinks -- Check your backlink metrics. An excellent backlink profile has reputable domains linking to it. Link building helps with domain authority and points cold audiences in your direction.
Live chat / messaging -- talking to a live person for inquiries builds more trust in the customer.
In all these scenarios, the customer comes to you for value. If you give customers valuable content, you will see a higher conversion rate. Ensure that your content is relevant and of quality by using industry-leading SEO reporting tools like SEO Scout for keyword optimization and visibility.
Turn a cold visitor into an email subscriber.
Organic traffic is significant. You know what's better? Turning those foreigners into loyal community members. Signing up for email newsletters gives you exclusive access to your customers and potential leads. The average email open rate is 21.33%, and the average unsubscribe rate is 0.26%. Those are pretty good odds. Here's how to up your email subscribers for more onsite conversions:
Add a sign-up option at the end of your articles. Your readers are primed if they made it to the end of your article. They read yours out of the thousand other pieces. They like you a lot. So, give 'em a chance to like you more by embedding an email sign-up option promising more valuable content.
Change up your button copy. "Sign-up" or "Subscribe" is basic. Adding minor tweaks to your button copy like "Sign-up today" creates a sense of urgency. Or, you can change them entirely to fit your brand like "Become a *brand name*er today" to give a sense of belonging.
Offer a checkbox option. When offering a free ebook or PDF, let's say a comprehensive guide, add a checkbox under the email box. If they're interested in one, they may be interested in more. Don't forget the checkout page; if they're at that point of purchase, they'd be more willing to keep ties with your brand, too.
For more onsite conversions, you want to implement SEO strategies like blog posts, landing pages, social media, and link building for more inbound leads. You also want to convert cold users into community members by having them subscribe to your email list. Both are effective ways to bolstering organic traffic to your site.
Keyword Rankings
The SEO Keyword Ranking KPI is a measure of your search rankings for targeted keywords and their changes in ranking over time. When it comes to your site visibility, keyword rankings are an essential metric that informs on search engine rankings and organic traffic.
See, because keywords are partially dependent on trends, seasons, Google's algorithm, and industry changes, they fluctuate in rankings. So you need to keep an eye on them to maximize your relevancy.
How to stay on top of your keyword rankings
Measure how your keyword rankings are faring right now. Obvious, right? Yet necessary. Identify your strong keywords from the get-go, so you don't remove them out of ignorance. By doing so, you'll also identify immediate areas for SEO improvement.
Then, target the right keywords through a SERP analysis or SEO reporting tool. One of the best traditional ways to find trending keywords is with an excellent ol' Google Search.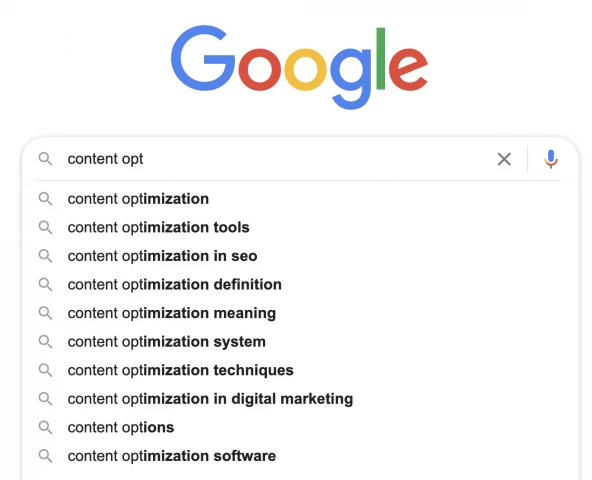 Lastly, a less-used yet effective SEO keyword targeting method is using long-tail (longer) keyword phrases. For one, they're less competitive because everyone is focused on the short-tail keywords. And, most questions come in the form of long-tail keywords, and they provide more depth about what your searcher is looking for, so you can better serve them.
Backlinks
The link-building SEO KPI is setting up hyperlinks from other websites to yours as referrals. It's just as crucial as staying on top of keyword rankings. These two combined are what catapults your web content through SERP ranks and establishes domain authority.
Why link building is important
When other websites redirect their traffic to your website with hyperlinks, they're basically telling Google, "we think this page has relevant and reliable information (or a worthy product), they're worth the visit to learn more and make a purchase." So, Google says, "Cool. They seem trustworthy; others will like 'em too."
Next thing you know, you're at the top of the search results page. Google will give credit to sites with multiple quality backlinks and consider them more credible. It's that simple.
How to do quality link building
Search engines aren't stupid. You can't just find ten random websites and paste hyperlinks to your own site all over. That may do more harm than good, actually. You need external links to your site from high-quality, trusted websites to build your legitimacy with Google.
So, arrange brand deals or write guest posts for websites with strong domain authority. SEO Scout's competitor research tool can give you insight on which sites to reach out to based on their SEO success, like domain authority and keyword optimization.
It's even better if your hyperlinks are attached to relevant keywords. Google can read the words and associate the link's location (your website) to the said keywords. That scores you points for relevancy.
Your backlinks don't all need to be external, either. Internal linking points visitors to a particular page within your website instead of a general front landing page. Doing so allows visitors to quickly navigate to the information they require and stay on your page longer. Exposing users to more valuable content can make them more appreciative of your brand, share the article, and trust you.
Track SEO KPIs on a regular basis and improve them all in one tool: SEO Scout
You're equipped with the knowledge on important SEO KPIs and how to improve them. Now, you just need the right tool to help you do that.
What if we told you that you could monitor the condition of site speed, redirects, link building, keyword ranking, and more all in one tool? Got any guesses? We're sure you do, considering that we demonstrated SEO Scout's Site Analytics, Keyword Optimization & Testing Tools in examples throughout this article. Sign up for a 7-day free trial today and double down on your SEO efforts.