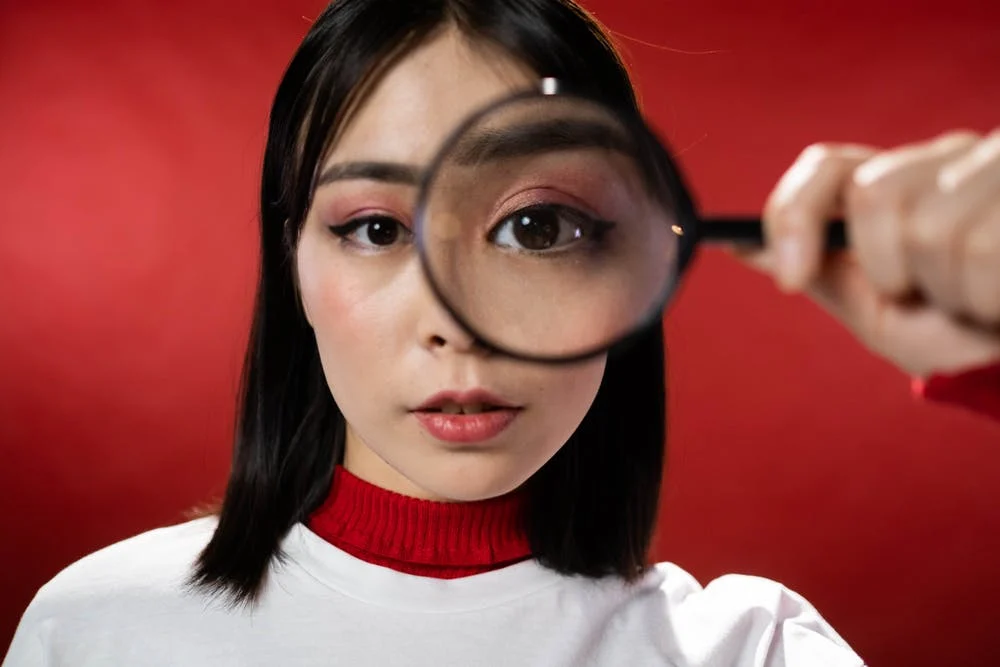 When surfing through the web for information, you want to find relevant and accurate results fast. Google understands that. The fact is that thin content doesn't deliver on those two factors. Google knows that, too. So, search engines won't rank web pages with thin content because they're not valuable to the user.
Naturally, for website owners, the question then becomes: "do I have any thin content?" The last thing you want is your web pages lost in the depths of page 13 of search results because of thin pages that add little or no value to the reader. Not only does that hurt your search rankings, but it also taints your brand image and dissuades users from taking action–causing you to miss out on leads and conversions.
Don't worry; you've come to the right place–no thin blog post here. In the next five minutes, you'll learn exactly how to find and fix thin content for SEO and create quality content on your website landing pages.
Let's get started.
What Is Thin Content?
Thin content is just another word for low-quality content that Google will punish. See, back in the day, it was easy to fool search engines by stuffing keywords everywhere irresponsibly and using shady link-building tactics.
But, after the Panda update in 2011, Google governs SEO differently with the E-A-T (Expertise, Authoritativeness, Trustworthiness) guidelines. Essentially, that stopped low-quality websites from cheating their way to rank higher in search results.
But, it also made thin content subject to cruel punishment, which, whether deserved or not, affected many sites in their ranking performance who didn't know any better.
4 Characteristics of Thin Content
What exactly do we mean by "thin" content? Here's a list of what qualifies on low-quality pages:
Duplicate or spun content appears in more than one place on the internet–so it lacks originality. It's essentially plagiarism.
Shallow topic coverage–you can have a 300-word blog post that says more than a 3000-word piece. If your content is full of superficial fluff, then it's not valuable to the reader.
Keyword stuffing doesn't and hasn't fooled Google for over a decade now. People with surface-level SEO knowledge try and keyword stuff because they don't any better. Doing this will put your website on Google's radar and is the fastest way to getting blacklisted.
Poor spelling and grammar are unacceptable on a professional brand's website. It results in a negative reading experience for visitors, and they'll also assume you don't put much care into your content. They won't trust your poorly written information, and Google won't push crappy content on the search results page.
How To Identify Thin Content
In some ways, you can tell just by reading thin content that it's not of quality. Poor spelling/ grammar and keyword stuffing make for unclear and awkward sentences–these are rather easy to notice. But, it gets harder to tell if you have duplicate and shallow content. SEO Scout can help in that department.
How to Conduct a Content Audit with SEO Scout
Identifying thin content has never been easier with SEO Scout's comprehensive grading report. Unlike an English teacher, our tool doesn't just cross things out with a red pen and expect you to understand. Instead, you get intuitive visual graphics to help you understand your content's performance on a macro level.
First, log into SEO Scout. You'll be met with three dropdown menus on the left panel because we're conducting a content audit connected to the "Sites" menu. Click Sites, and then Site Audit.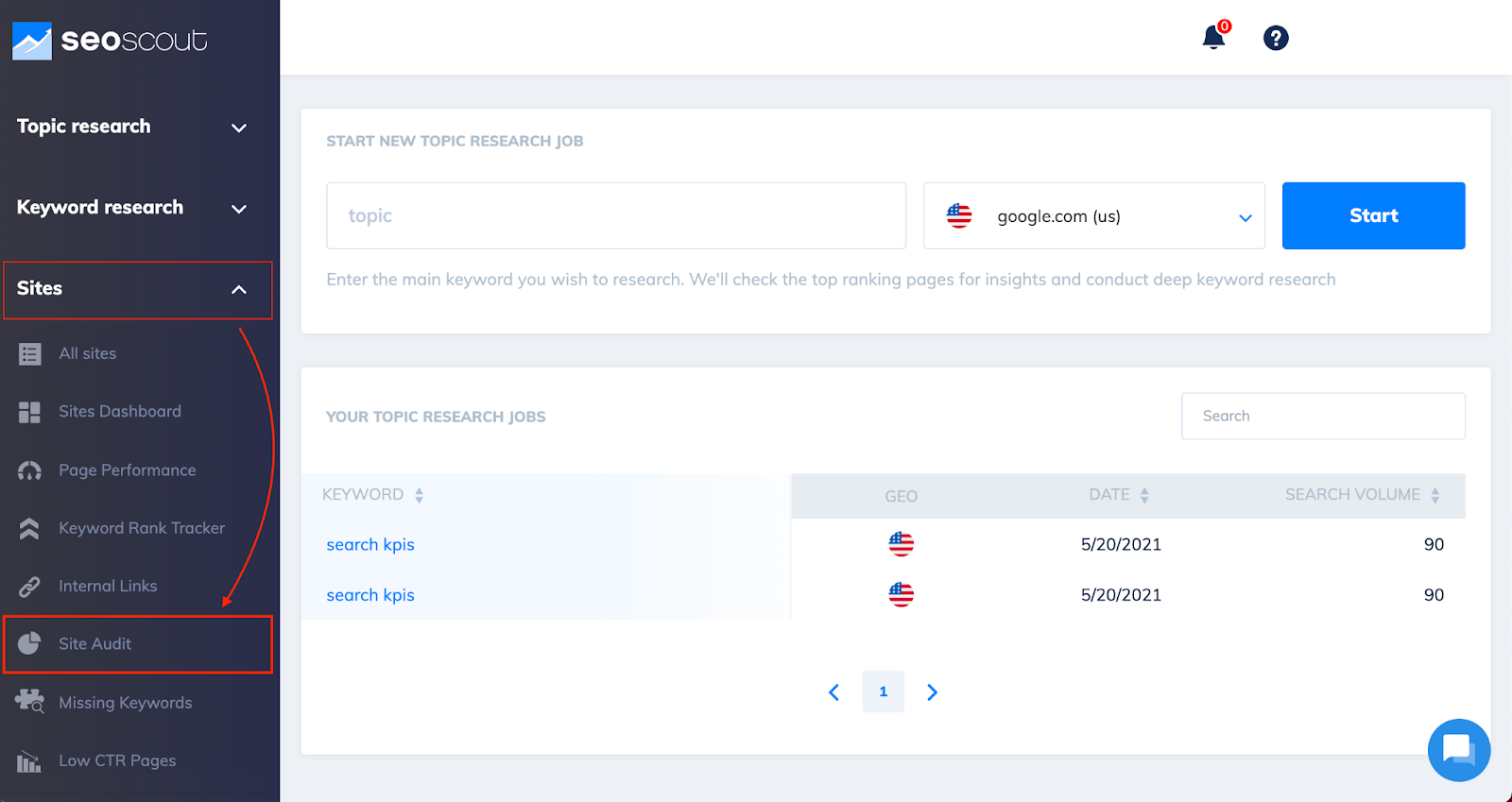 After clicking Site Audit, you're presented with a sub-menu with four different types of audits—select Content Audit. Here, you can observe the macro data we talked about. Shown with a visual aid like pie charts, you can get an overall idea of how well-written (i.e., easy-to-read) your stuff and how it's performing against the rubrics: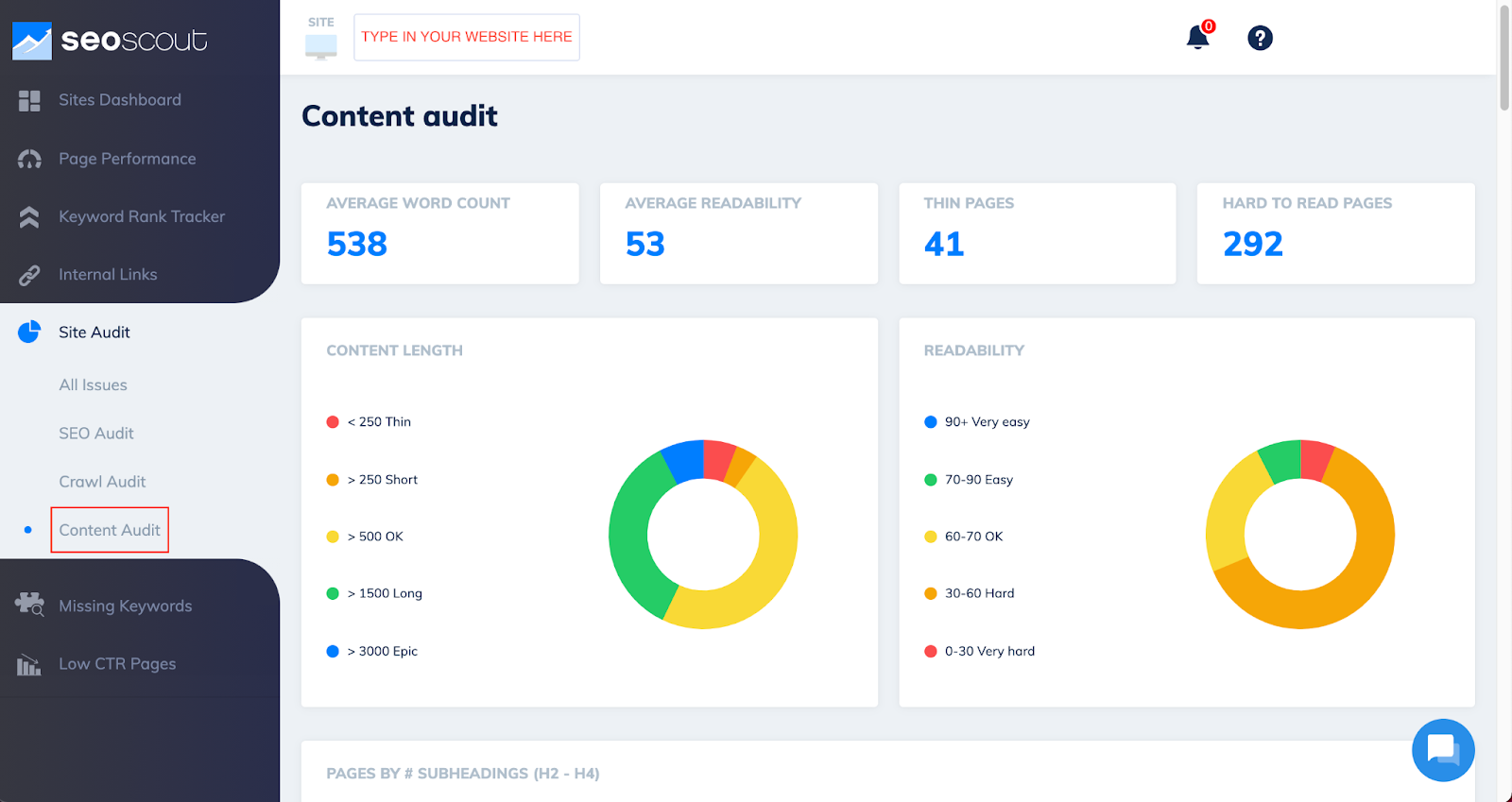 Tada. If you scroll further down, you're met with specific pages on your website and their data. Here's where you learn where your thin content pages are exactly and work to consolidate them.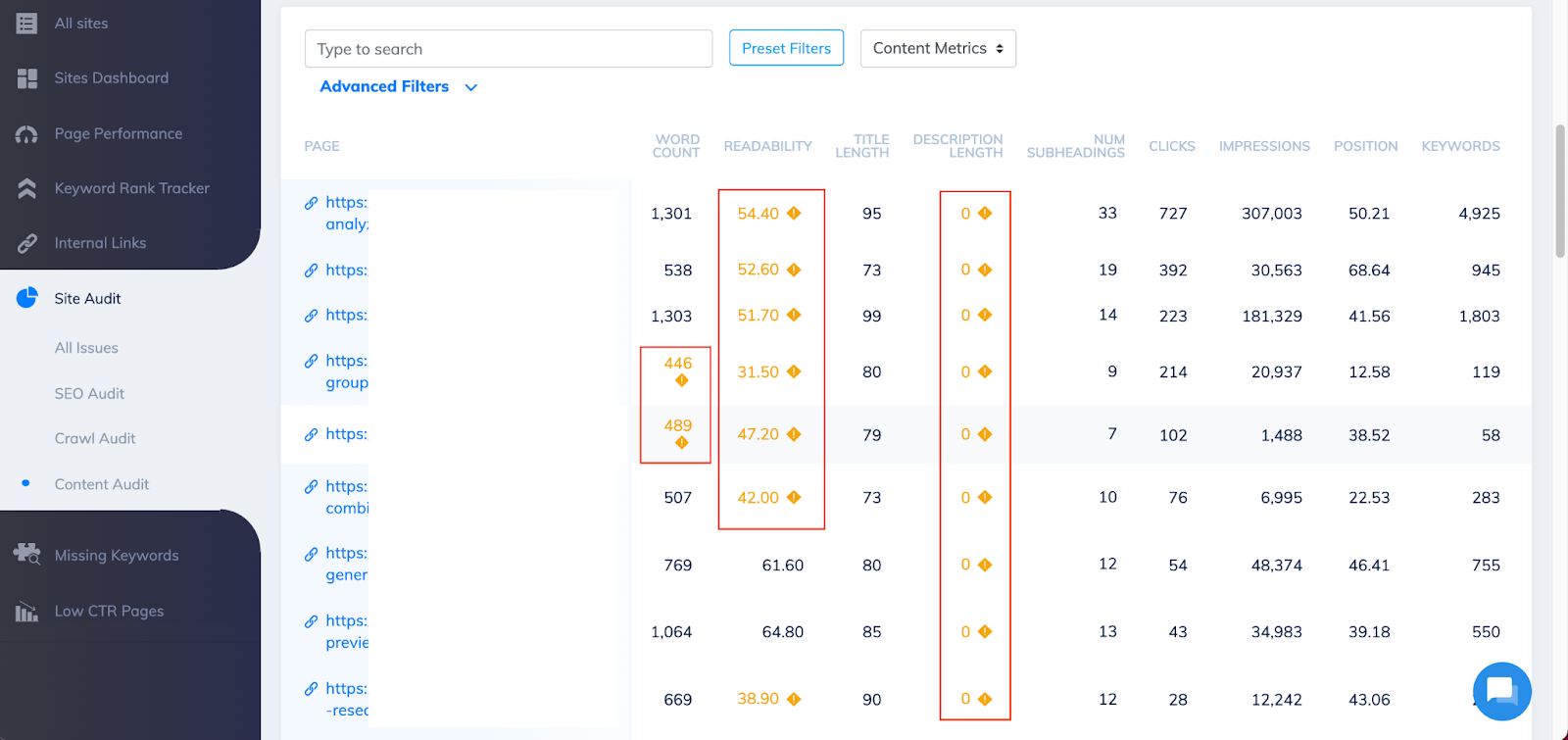 Run Your Content Through a Plagiarism Checker
Remember when we talked about duplicate content? We can't have that. So, the best way to find out if your work is excessively similar to other websites is by running it through a plagiarism checker like Grammarly or Copyscape. If you see matches, you want to change the wording or perhaps talk on a different point.
Duplicate content forces search engines to choose a version that's likely to be the best result. So, Google may interchangeably rank up your page once and duplicate pages another time. That dilutes the visibility of each of the duplicates.
Also, other sites may find the content valuable, but they could be backlinking another website and giving credit to them for your work since it's duplicate content. So, you miss out on inbound linking opportunities, which impact your search rankings.
Assess Your Grammar with a Proofreading tool
Our brains, subconsciously, skip over the the grammatical errors to help us understand content the first time. Read that sentence again. Did you notice the double "the"? See what we mean?
With longer written pieces especially, it will be hard to spot grammatical errors and lousy English. But, that doesn't mean Google won't punish you for it. Top-ranking search results must always have error-free, high-quality content for the reader–no matter how small. Google lives by that.
Installing the Grammarly extension or using another automated proofreader tool will highlight errors for you and thereby aid in identifying thin content on your website. At the same time, SEO Scout's Readability metric helps you figure out if you need to make your writing simpler and more concise.
How to Beef Up Thin Content for SEO
Okay, so you know where your content needs improvement, now we're at the doing part. How exactly do you fix the thin content you just found? Let's cover that in this last section.
Balancing content breadth and depth
Near the beginning of this article, we mentioned that shallow topic coverage is a major ick for Google. Thin content can be thickened into valuable content by adding breadth and depth. Generally speaking, blog posts with a low word count are often not as detailed so that they can be subject to the Google thin content penalty. Writing more but with value is wise.
In the case of writing, you can do that by considering:
Breadth – providing different perspectives and knowledge funnels to a particular topic (e.g., What is…, Why is it vital, How to…). Users don't have to visit elsewhere and look for more information because your quality content has it all.
Depth – not only should you hit a topic from a wide range of avenues, but you should go deep into them, too. You can use in-depth tutorials on a specific feature, real-life examples/case studies, and back your statements with research and explaining the why behind things rather than just stating them.
Use SEO Scout's Content Editor to Make Your Content More Relevant and Rich in Detail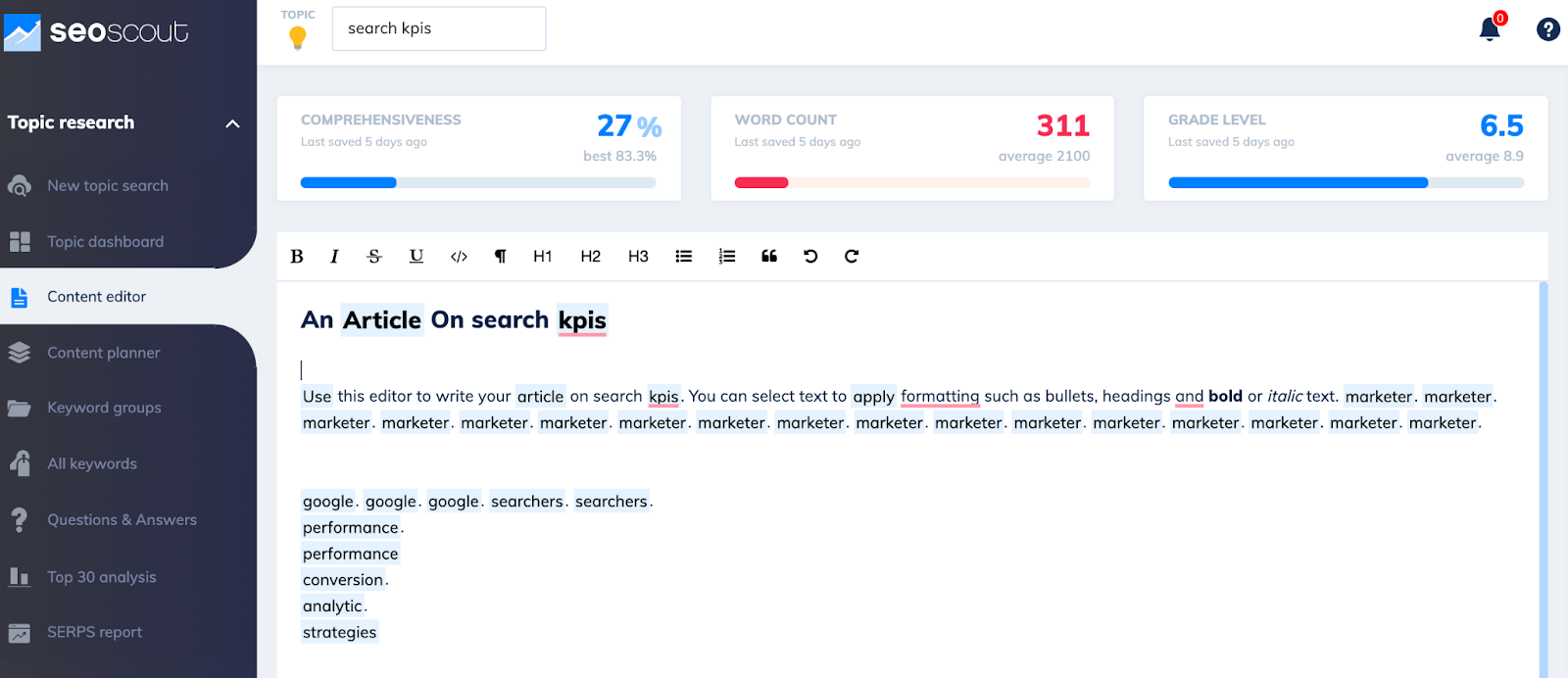 SEO Scout's content editor can help make your content become more relevant by suggesting topics and entities based on what's already ranking in the top 10 of Google's search results page. The Comprehensiveness score indicates how deep your content should be, and the higher the percentage is, the better your chances of ranking well will be. It also provides benchmarks for word count and readability (i.e., the Grade Level score) based on top-ranking content. These are things that make your content go from thin to rich.
Create Error-free, Original Content From the Ground-Up
A sure-fire way to catch lousy grammatical errors is by installing the Grammarly extension so it can automatically highlight mistakes while you focus on writing with breadth and depth. If you don't trust your writing skills or simply lack the time, hire blog writers–and ensure they're native English speakers, adhere to writing guidelines, and are familiar with correct grammar rules.
It's acceptable to research competing articles to help structure an outline for your own piece. But, the written information should be original with your writing personality and, if possible, backed with up-to-date research to instill confidence. You should also give a unique perspective that readers can't find elsewhere. This could be a personal life story, analogy, or joke that you can weave in.
How to Use SEO Scout to Boost Your Search Rankings
Publishing thin content doesn't attract organic traffic, but search engine optimized blog posts and landing pages do. Along with comprehensive, original, and error-free content, you need to implement popular short-tail and long-tail keywords and internal links within your content.
Find Missing Keyword Opportunities
If one of your category pages were flagged for thin content, chances are they're not doing very well ranking for keywords. They may have some, but not all. In which case, you can use SEO Scout's missing keywords tool to give you an idea of the keywords you should add to your piece.
On the left panel, drop down on Sites and choose Missing Keywords. After pasting your web page link in the website input bar, you'll see missing keywords and the potential gainable impressions by implementing them: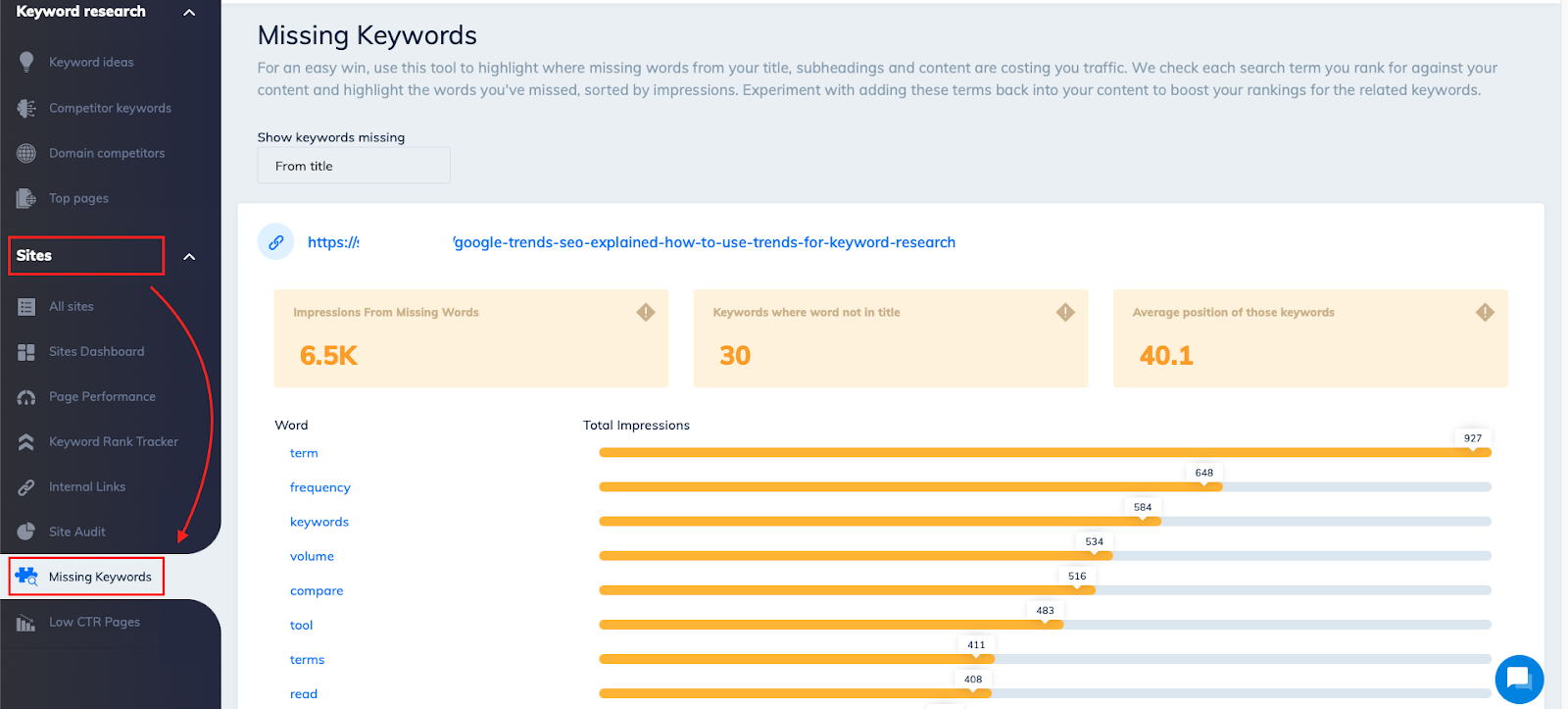 Find Missing Internal Linking Opportunities
Internal links are embedded (through anchor text–which is the text the link is attached to) within a web page linking to another page on your website. This redirects your site traffic to other related pages on your site.
You may not be able to control how and where backlinks to your site come from, but you can ensure your internal links are relevant with the right anchor text (so users and Google know what the link is about). Doing so will help your lower-performing thin pages rank higher on Google search because of the link juice that's being passed on from your higher-authority pages. At the same time, it may encourage readers to browse through your website. Win-win!
With SEO Scout, you can highlight pages with few internal links and give them a boost by adding more internal links from other content on your site. You can also stay on the lookout for web pages that don't have many unique anchors. Unique anchors are good. Generic and repetitive anchors don't say much to Google and the user about what the link holds (e.g., "Click here").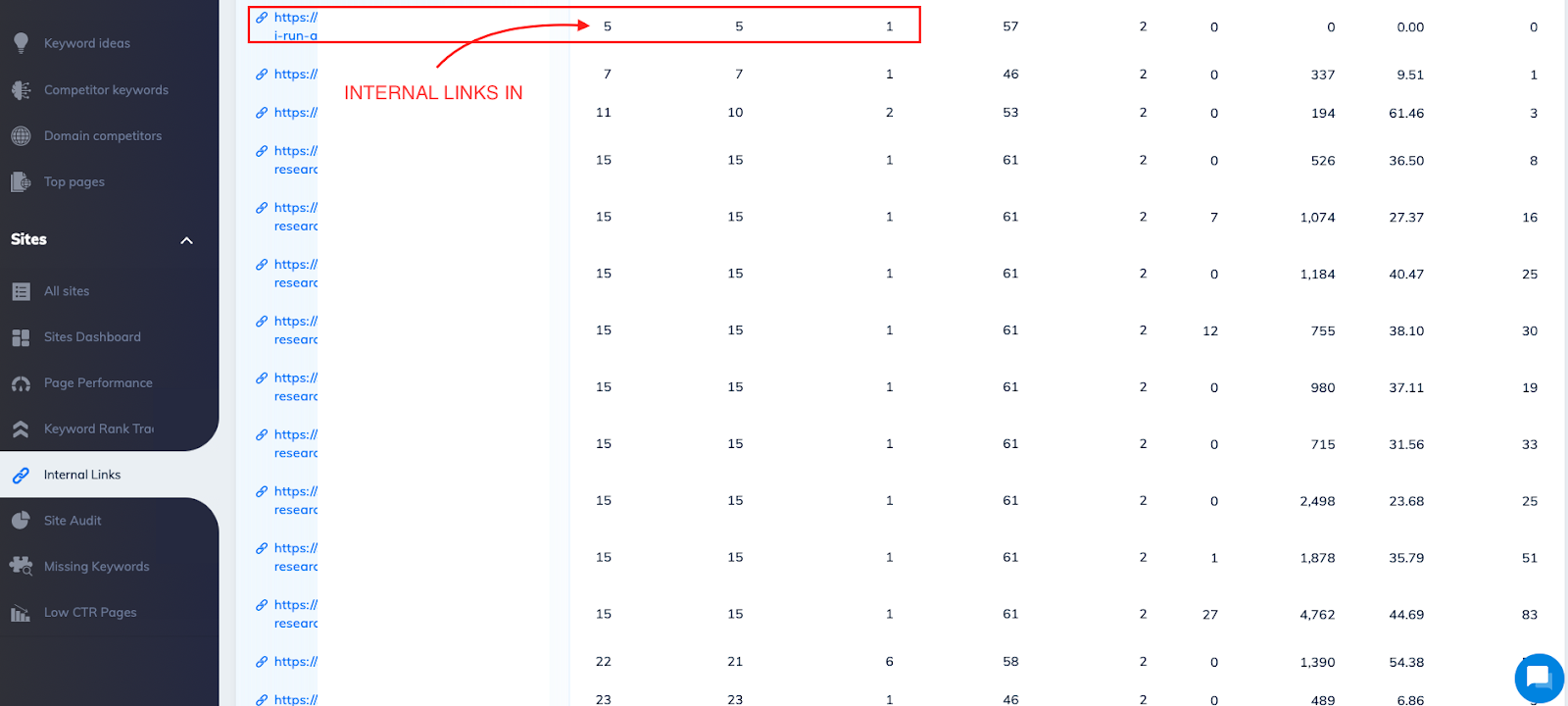 Not only can you filter through pages that need more internal links, but SEO Scout also gives you recommendations for the most relevant articles to add your internal links to based on keyword and content matching.
As seen in the screenshot above, simply click on one of the links (in our case, it would be the link in the red outlined box). That will bring you to another page where you can monitor that specific page's monthly trends for clicks, impressions, CTR, and average position. Scroll down a bit, and you will see the header option for Internal Links–click on it. Voila: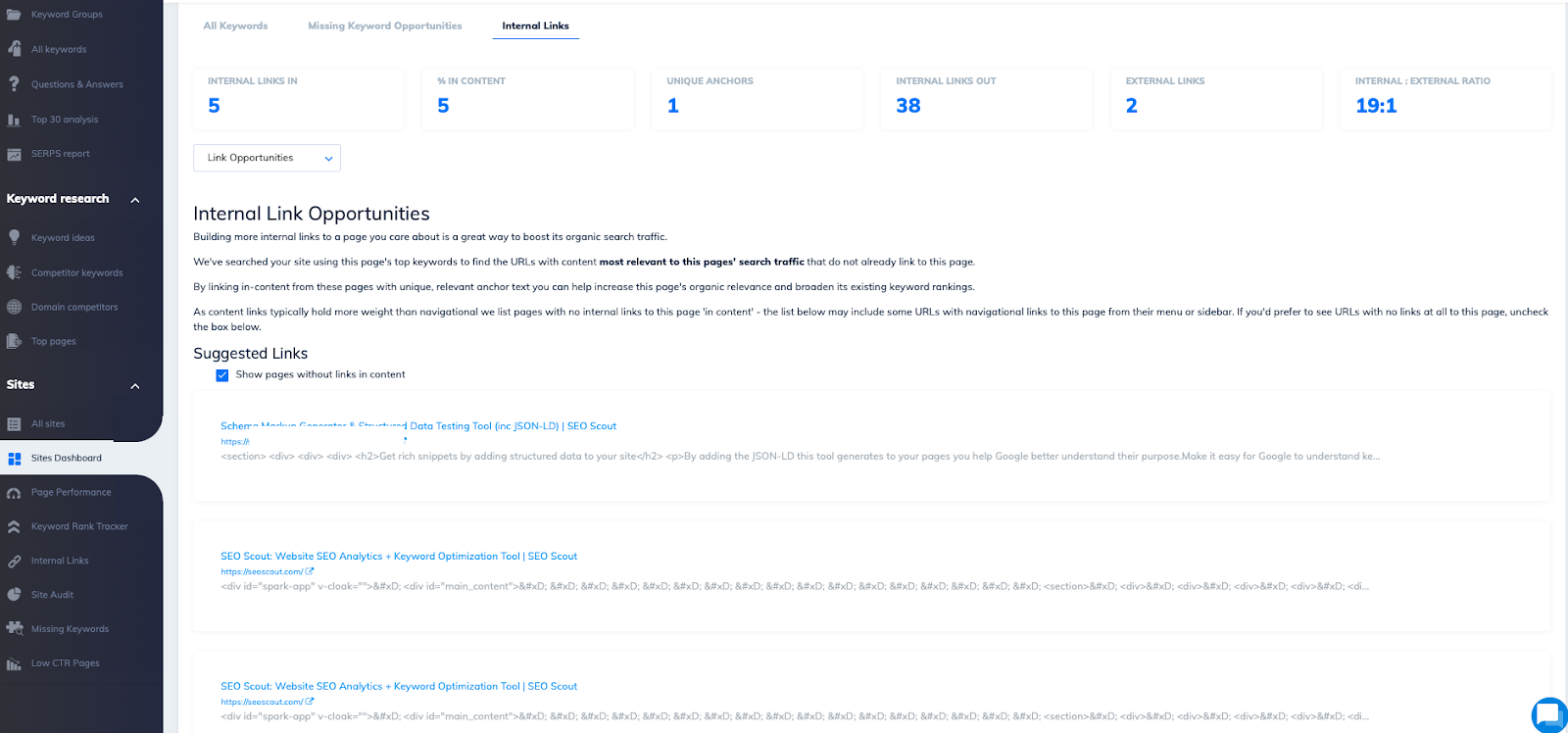 Conclusion
If it's not clear already, Google and other search engines don't like thin content. Your readers won't like thin content, either. Thanks for sticking around; you did yourself a huge favor. Because now, you know what thin content is, why it's essential to fix it, and how to improve it through our tips and tools. No excuses anymore.
You don't necessarily need an SEO reporting tool to find and fix thin content, but your leading competitors are using one–and if you ask them, it makes the job more accurate and effortless. If you don't believe us, try SEO Scout for 7 days FREE today and see how efficiently you'll find and fix thin content to bolster your site's overall SEO performance.