Why Being Digitally Discoverable is More Vital Than Ever
Online activity is more active than ever.

According to SocialMediaToday, the number of minutes spent by readers on news sites has increased by 46% since last year, and the daily time spent on apps increased 20% year-over-year.
According to MarketWatch, Facebook is also seeing record usage highs, specifically in those countries hit hardest by COVID-19.
Regardless of the platform, digital marketing is evolving. Companies have adjusted to working from home, as well as the financial burden that is removed by no longer needing an office space for their employees.
With more people continuing to work from home, more users are active on their computers; digital activity will continue to increase.

Fewer people are driving to work and flying for in-person meetings with businesses across the country, so traditional forms of marketing, such as billboards, are going to see even larger drops in effectiveness.
So, how do you capitalize on these changes as a marketer?

Show up more frequently, or how we define it, you must become digitally discoverable.
What does discoverability look like?
Discoverability is defined as how visible your website and brand are on the internet. You can be visible from many different marketing channels including organic and paid search, referrals, and social media.

But when you use Google, how do you show up for keywords that you are not capable of ranking for? This is where the concept of "share of SERP" comes into play.
Share of SERP occurs when your brand is visible in multiple areas in the search results. Gaining share of SERP is crucial because it maximizes the ability for a user to interact with your brand.
It's simple, the more you show up, the more you are found by your audience!
For example, if you google the term "automation software", you will find a couple of brands that show up at the top of the SERP. However, the majority of the pages in the top 10 are articles ranking which automation software is the best.
At the top of the SERP, there are four opportunities for companies to pay for advertising of their automation software. At the bottom of the SERP, there are three more opportunities.
Although these cost money, if you can get your product featured at the top of the SERP, you are maximizing your opportunity to be discovered because everyone who searches this term will see your ad first.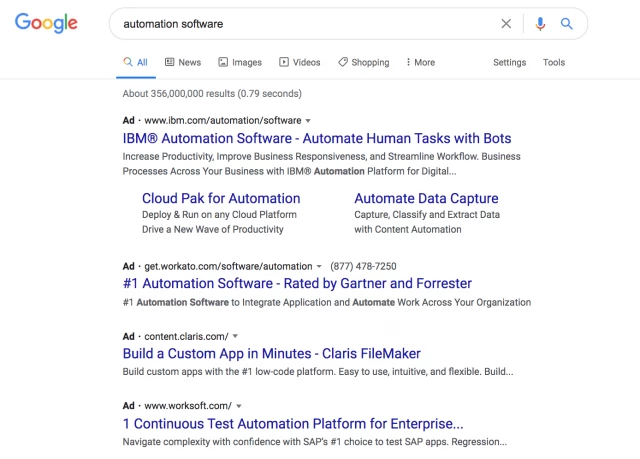 Further down in the SERP, there are ten organic opportunities for automation software products to be featured in, as well.
At the bottom of the SERP, there are multiple modules that include related searches with other automation software and tools. This can be another opportunity to become discovered in this SERP.
Check it out: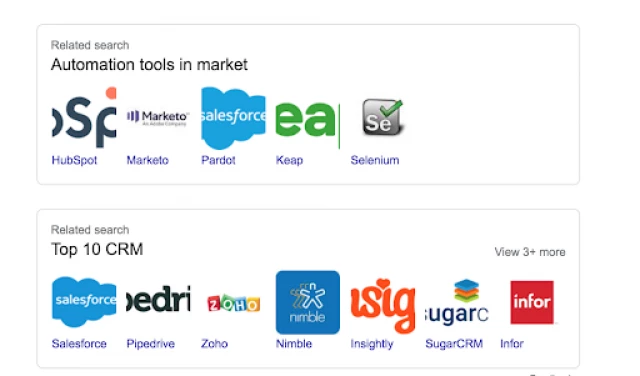 When we count out the various opportunities, there are potentially 17 different opportunities to have your brand featured in this SERP, alone.
Being featured across every possible place is what we call "dominating share of SERP".
This is basically the Michael Jordan magic of search.
How search results have changed
Google consistently changes the landscape of search with testing new modules and SERP formats.
Everyday, more ads are being added to the SERPs, which not only dilutes the clickability of other paid and organic listings but decreases the click-through rates of organic listings.
For example, in the SERP for "automation software", there is not a single organic search result above the fold, meaning you have to scroll to see any organic search results.
Featured snippets were "de-duped", meaning the result in the featured snippet is not featured twice in the SERP like it once was.
Earlier in 2020, Google announced that it would not only be removing duplicate listings from the SERPs, but also removing multiple results from the same website.
Why?
The purpose was to give more opportunities for other websites to rank for different search results. However, the problem with this is the best results don't always get pushed to the forefront.
So, how do you break through and show up more often?
The road to discoverability
Understand what your audience searches for.
The issue with wanting to simply show up as much as possible is that you create an environment where you only are focusing on the content, and not what the end-user needs. When you create content, write content that matches what will solve problems for your target audience.
Ask yourself before you begin this process:
What keywords do my target audience show up for?
What keywords do I want to show up for?
What keywords can I not rank for, but it would be valuable if I could be mentioned somewhere?
By mapping out the search landscape, you give yourself a better idea of what is out there and what possibilities are available.
Create a strategy that targets each search query.
Sometimes it is best to NOT create a new content piece or page to be found for a search term. In this case, build a strategy of how you are going to show up.
For example, for the search term "enterprise log management software", Sumo Logic shows up as #10 on the SERP, but they are also featured in many of the listicles that rank above them in the SERP.
They are also included in one of the top articles in the search, as well.
This way, if someone does not scroll down to find their core solution page, but they click into Capterra or Software Advice, they can be found that way. A-ha.
Fire up your competitive analysis
Let's face it, it can be challenging to find effective keywords that drive traffic, leads, AND new business to top it off.
If you are stuck, take a peek at what your competitors are doing and take notes.
What keywords are they showing up for?
What pages have they recently created?
What search queries are they paying for ads?
Often, what your competitors are investing in is a shining opportunity for you to understand what is working and get your wheels turning.
For example, if you see your competitor continuously paying for a keyword month-over-month, odds are that they're seeing good returns.
This may be an opportunity for you to look at the organic listings in the search results and try to ramp up your discoverability in new areas.
Build a unique discoverability strategy
Let's get real. This process takes some time and qualitative analysis. You must gain an extreme understanding of your audience and the search landscape.
What do they need and how can they find you to solve their problems?
With that being said, performing this kind of analysis can help you focus your efforts in search marketing overall - whether that is through paid search, SEO, or digital PR. We're talking about it all.
Remember, by simply Googling various terms that are related to your business and industry, you can gather valuable insights, in real time. Once you have an idea of where you're headed, use SEO software that gives you access to a massive keyword database.
The world is your oyster right now. People are online. Are you showing up? It's time to be discoverable.

This is a guest post from Liam Barnes, Senior Seo Specialist at Directive